Photographer Shows How Much Berlin Has Changed In the Past Century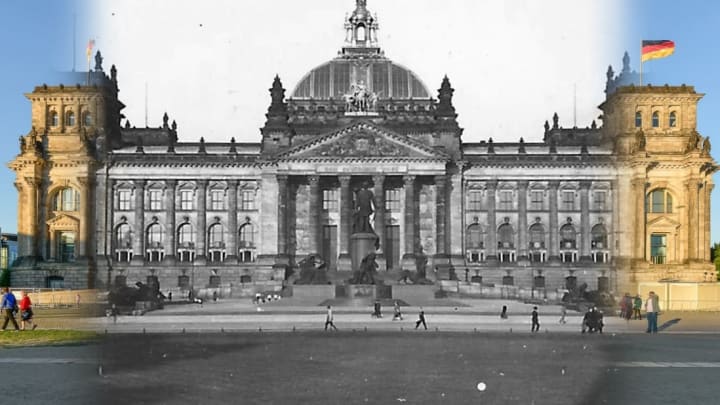 David Köster, Lenstore / David Köster, Lenstore
Berlin has undergone radical changes in recent decades. Once the physical symbol of Europe during the Cold War, the capital of Germany is now an epicenter of different cultures representing the continent and beyond. For an idea of just how much the city has evolved in the past 100-plus years, from the pre-Soviet days of the early 20th century to the fall of the Berlin Wall in 1989, check out the photos below.
For this series from Lenstore, German photographer David Köster recreated images captured in Berlin from pre-World War I through the end of the Soviet Era. He researched locations on Google Street View prior to shooting to ensure the angles matched perfectly. As you can see below, the historical, black-and-white photos taken decades ago have been blended into modern settings. The untouched, present-day photos show just how much things have changed—or in some cases, stayed the same.
One of the most dramatic contrasts shows the Berlin Wall in 1989 and today. The old photo depicts a graffiti-covered Berlin Wall cutting through scene, and in the second image, the previously blocked street is open to the viewer. In the new image, you can see the thick line that marks the spot where the wall once stood, a constant reminder that runs through the city.
Potsdamer Platz was in ruins during World War II, as the 1945 photograph shows, but today it's a popular city center and shopping district. The photograph of the Reichstag (the German parliament) taken 1929 shows a much different building than what stands today. After it caught fire in 1933, it sat empty for years and was finally reconstructed in the 1990s, following the fall of the wall. Other landmarks, like the Brandenburg Gate and Gendarmenmarkt, have remained pretty much unchanged over the decades.
After flipping through the collection, you can brush up on some facts about the city depicted in the photos.