The Quadrantid Meteor Shower Peaks Tonight—Here's How to See It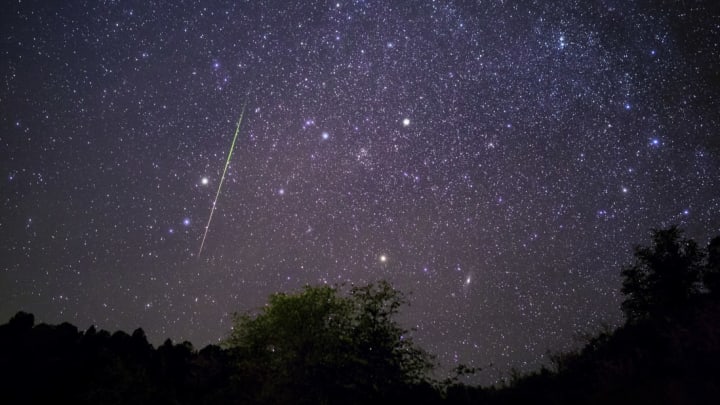 iStock.com/mdesigner125 / iStock.com/mdesigner125
The first major celestial event of 2019 kicks off the night of Thursday, January 3. The Quadrantid meteor shower appears in the night sky each year in the beginning of January, and it's considered one of the most impressive annual meteor showers. If you're looking to catch the spectacle before it disappears for another year, here's where to look.
According to The Washington Post, the Quadrantids are set to peak this year between 9 and 10 p.m. Eastern time Thursday night. Sky gazers in Eastern Europe and Central Europe will have the best view, potentially seeing as many as 120 meteors burn up in the atmosphere per hour. In the U.S., the meteor shower will appear very low in the sky during its peak, and much of it will be lost beneath the horizon.
But in clear, dark conditions, U.S. viewers can still expect to catch up to 40 meteors in an hour. The shower will appear to originate from the northern part of the sky around 8 to 9 p.m. Eastern time and migrate north-northeast by 10 p.m. At 1 a.m., the shooting stars will have reached their highest point in the northeastern night sky.
Unlike other meteor showers like December's Geminids, the Quadrantids are contained to just a single night rather than stretched out over several days. Peak activity usually lasts four hours, which means there are parts of the world that miss them altogether in some years. The Quadrantids are also distinct in that they come from the debris trailing an asteroid, where most other meteor showers occur when the Earth passes through the tail of a comet.
[h/t The Washington Post]