300-Foot Wide Floating Saucer of Ice Forms on a River in Maine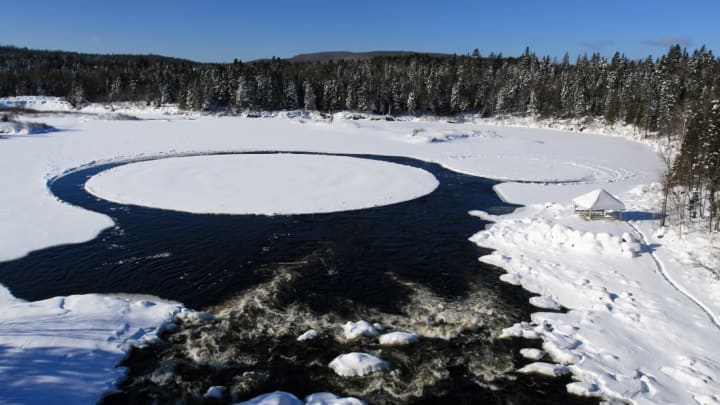 iStock.com/Onfokus / iStock.com/Onfokus
People are crowding the banks of Presumpscot River in Westbrook, Maine to see a strange natural phenomenon. As temperatures in Maine have plunged, a giant, floating ice disk has formed on the river's surface, NBC News reports—and it's gaining worldwide attention.
The ice disk appeared when a cold snap hit the Portland, Maine suburb earlier in January. It isn't unusual to see ice chunks floating down the Presumpscot River this time of year, but this floe is notable for its size (roughly 300 feet across!) and shape. From land, it looks like a near-perfect circle, prompting comparisons to flying saucers and the moon. And as of Wednesday, January 16, the disk had been slowly spinning counter-clockwise.
The uncanny sight is actually the result of a natural process. According to experts, the disk likely formed when a chunk of river ice got caught in a vortex powered by a waterfall 100 feet upstream. As the ice spun it would have bumped into the shore continuously, smoothing out its rough edges into a smooth circle.
CBS 13 reports that the giant ice pancake stopped spinning on Wednesday after getting caught on another piece of ice near the the riverbank. It continuous to attract spectators and serve as a landing pad for local ducks.
[h/t NBC News]