George Mason University Becomes First College to Include Food Delivery Robots in Its Meal Plan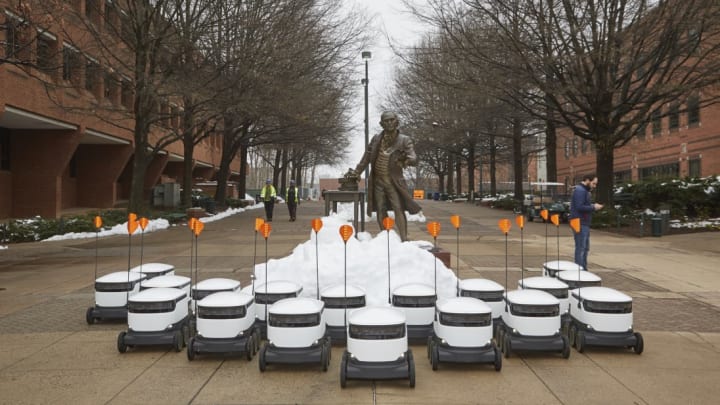 Starship Technologies, Sodexo / Starship Technologies, Sodexo
Students at George Mason University will now be able to buy fuel for their study sessions without trekking to the dining hall. As of Tuesday, January 22, the college is offering a robot food delivery service on its Fairfax, Virginia campus.
The new system, a collaboration between Sodexo and Starship Technologies, is the first of its kind to be integrated into a college meal plan. To use it, students must first download the Starship Deliveries app for Android or iOS, and from there they will be able to order food and drinks from a handful of locations, including Blaze Pizza, Starbucks, Dunkin', and the on-campus grocery store. Deliveries cost $1.99 per trip, and usually take about 15 minutes to complete.
The service is made possible by the school's fleet of more than 25 delivery robots. Reaching about knee-height, the boxy vehicles can hold 20 pounds each, or roughly three shopping bags of food. They navigate the campus autonomously, updating users on the journey in real-time via an interactive map in the Starship app, and when they arrive, users can unlock the hatch from their phones.
Starship Technologies, Sodexo
"With the hectic schedules students lead, there is a convenience for students to have their food, groceries, and packages delivered," Ryan Tuohy, SVP of business development at Starship Technologies, said in statement. "Our goal is to make life a little bit easier for students, whether that means skipping the line, eating lunch on the lawn rather than in the cafe, or finding the time to eat better when studying for exams."
George Mason University is the latest place to experiment with delivering food via robot. Domino's rolled out similar autonomous vehicles in New Zealand in 2016, and 2017, the robotics company ZMP and the food delivery service Ride On Express debuted sushi delivery robots in Japan.