New Exhibition Highlights Mansa Musa, the Richest Man Who Ever Lived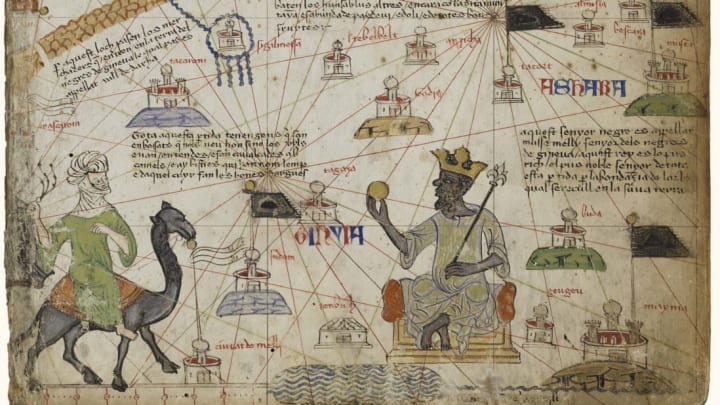 Reproduction of the Catalan Atlas featuring Mansa Musa. / The Block Museum of Art, Bibliothèque nationale de France
Before there was John D. Rockefeller, Bill Gates, and Jeff Bezos, there was Mansa Musa. Born in the 13th century when West Africa was an abundant source of gold, the king of the Empire of Mali was the richest person in the world, and possibly remains the richest person to ever live. Now, the life of Mansa Musa and the world he lived in are the subject of new exhibits at the Block Museum of Art at Northwestern University in Evanston, Illinois.
"Caravans of Gold, Fragments in Time: Art, Culture, and Exchange across Medieval Saharan Africa" highlights parts of Africa prior to European colonization and the Atlantic slave trade. From the 8th to 16th centuries, remarkably pure gold mined in West Africa crossed the Saharan Desert via trade routes and fueled economies in Europe, North Africa, and the Middle East. West Africa's resources and influence made it one of the wealthiest regions in the world during this period, as evidenced by the artwork and fragments featured in the exhibit. Bronze sculptures, indigo-dyed fabrics, and gold coins are a few of the precious items loaned from Mali, Nigeria, and Morocco.
One highlight of the exhibition, a reproduction of a medieval manuscript called the Catalan Atlas, depicts information about Saharan trade routes, with an illustration of Mansa Musa holding a gold coin featured prominently. The ruler displayed his wealth to the world outside his kingdom when he made a pilgrimage to Mecca in 1324, accompanied by a caravan of slaves and soldiers wearing silk and camels and horses carrying gold. If he was alive today, his net worth would equal an estimated $400 billion.
Despite his status during his life, many people today have never heard of Mansa Musa. "Caravans of Gold" aims to combat modern perceptions of a poor Africa by highlighting the affluence of medieval West Africa in a major museum exhibit for the first time.
"The legacy of medieval trans-Saharan exchange has largely been omitted from Western historical narratives and art histories, and certainly from the way that Africa is presented in art museums," curator Kathleen Bickford Berzock said in a statement. "'Caravans of Gold' has been conceived to shine a light on Africa's pivotal role in world history through the tangible materials that remain."
"Caravans of Gold" will run at the Block Museum through July 21, 2019 before traveling to the Aga Khan Museum in Toronto and the Smithsonian National Museum of African Art in Washington, D.C.
The Block Museum of Art, Institut des sciences humaines, Mali/Clare Britt
Gold coin of al-Mustans ̇ir Billaˉh (1036–1094 CE), struck in Cairo. / The Block Museum of Art/Bank al-Maghrib, Rabat, Morocco, 521508/Fouad Mahdaoui
Bowl from 11th-century Egypt. / The Block Museum of Art/The Aga Khan Museum, AKM618
Gold bioconical bead from 10th-11th century Egypt or Syria. / The Block Museum of Art/The Aga Khan Museum, AKM618