12 Things To Do When Your Flight's Canceled or Delayed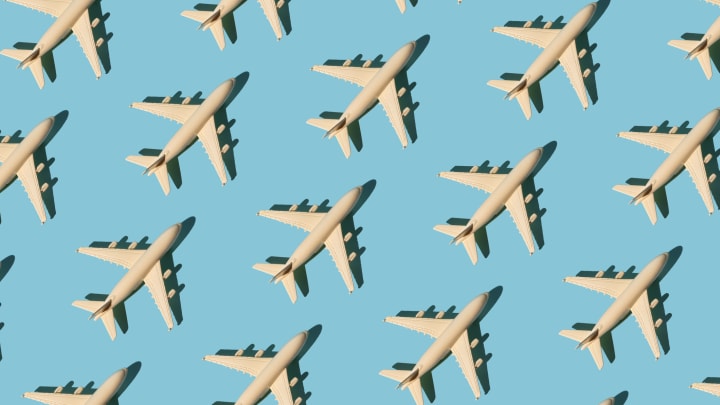 Flight delayed or canceled? Here's what to do. / Tanja Ivanova/Moment/Getty Images
Delayed flights are a bummer. After all, the reason you came to the airport is because you wanted to reach your destination faster. But flight delays are unpredictable. Maybe the weather became surprisingly unpleasant, or a mechanical issue arose, or the FAA's system went down, or, as in the case of China's Hangzhou Ziaoshan International Airport in July 2010, a UFO was discovered hovering near the airfield. Here's what you should do if you're stranded because of a flight delay or, heaven forbid, a canceled flight.
1. Understand your rights as a passenger if your flight is delayed ...
Fun fact: Legally, you have very few rights. In the United States, at least, few regulations require airlines to provide you with any form of compensation after a delayed flight. Many airlines, however, have what's called a Contract of Carriage, which describes what you're entitled to: Potential food vouchers, discounts, refunds, or a hotel stay in the event of a flight delay when the airline is at fault. So read those terms and conditions when you book! You might also want to bookmark the Airline Customer Service Dashboard, a tool created by the Department of Transportation that, in its words, ensures "the traveling public has easy access to information about services that U.S. airlines provide to mitigate passenger inconveniences when the cause of a cancellation or delay was due to circumstances within the airline's control."
2. ... Especially if you're flying in Europe.
You might have more rights if you're flying to Europe and your flight is delayed or canceled. / Anadolu Agency/GettyImages
If you're flying in Europe—or flying aboard a European airline—passengers have more rights. According to Regulation EC 261/2004, if your flight reaches its destination more than three hours late (or if you were denied boarding because of overbooking) you may have a right to be compensated up to €600, or about $700.
3. If a flight delay or cancellation caused you a big financial loss, you could be compensated for it.
As Airfare Watchdog explained in 2017, "[I]f you can provide evidence of financial loss caused by a delay on an international flight, and prove that the airline could have prevented it by taking 'reasonable measures,' then you may be able to claim further compensation under the Montreal Convention, a treaty that covers most international travel. Under its Article 22, it stipulates a maximum payout of 4150 SDRs (currently $5870)."
(By the way, an SDR, or "Special Drawing Right," is an international unit based on a basket of five currencies: the U.S. dollar, the pound sterling, the euro, the Japanese yen, and the Chinese renminbi. It's the main unit used by the International Monetary Fund.)
4. Check your connecting flight status immediately.
In most cases, the airline will put you on the next available flight to your destination—but it may not alert you to that fact. Call or check customer service immediately to get an update on your status. In some instances, the airline might have automatically rebooked you on a completely different route to your destination.
5. Make some calls as soon as your flight is delayed or canceled.
Be prepared to make some calls if your flight is delayed or canceled. / bunhill/E+/Getty Images
If you rented a car, let the agency at your destination know about your delayed flight status. If you think the flight delay might last into the night (or will become a canceled flight at some point) and the airline doesn't seem to be budging on handing out those hotel perks, it may also be worth booking a hotel yourself just in case. Some hotels don't charge until you check in, so—pending the accommodation's cancellation policy—there might be nothing to lose if the airline manages to pull through.
6. Do some research on chronically delayed flights.
Now that you have some extra time on your hands, why not check up on the U.S. Department of Transportation's Travel Consumer Report? It supplies a monthly rundown of the cause of every flight delay experienced by each carrier. Similarly, the Bureau of Transportation Statistics maintains a list tracking the causes of delays as well as list of "chronically delayed flights." It can't save you this time, but it might help you pick a better flight next time.
7. Wait before you begin making complaints ...
If your flight hasn't been delayed for at least three hours, you really shouldn't expect any vouchers or sympathy. At that point, complaining about a delay is a waste of everybody's time. If you bought travel insurance, your policy will likely kick in about four hours after the delay. Depending on the policy you purchased and the provider, you should call the insurance company when hour four hits to see what you may be entitled to.
8. ... But try not to fall asleep.
A man sleeping at Heathrow Terminal 5. / Peter Macdiarmid/GettyImages
In some cases, an airline may tell passengers that the flight delay will last three hours, only to suddenly announce over the P.A. system that they'll be boarding soon. A flight can be "undelayed" and you should be prepared if that happens. So if you plan on taking a nap, find a buddy to wake you up just in case. (In a similar vein: If a flight is delayed before you reach the airport, you cannot arrive late to check in. You need to show up as if the plane were leaving on time.)
9. Read the fine print on your credit card—it might cover flight delays.
Many credit cards come with travel protection benefits in the event of a delay; some will even reimburse you if your flight is delayed a certain amount of time if you booked your ticket with that card. So get familiar with your credit card perks and see if you're eligible.
10. Take a hike.
Airports are great places to go people watching and, of course, plane-spotting. They're also not a bad place to exercise. (And, let's admit it—you might need to blow off some steam.) Multiple airports now have gyms and free yoga studios. Phoenix Sky Harbor boasts a "Walk The Sky Harbor Fitness Trail" [PDF].
11. Check the attractions at the airport.
During the winter, Denver International has a free outdoor ice-skating rink. Seattle-Tacoma International displays more than 60 works of art and offers a self-guided walking tour. At Amsterdam's Schiphol airport, the world-renowned Rijksmuseum has set up exhibits showing Dutch masterpieces. And at Singapore's Changi International Airport, Terminal 3 boasts a four-story slide.
12. Cuddle an animal.
Therapy Pig Eases Passengers' Travel Anxieties At San Francisco Airport. / Justin Sullivan/GettyImages
You're stressed. You're anxious. You're angry. But what if we told you that at San Francisco International Airport there's a therapy pig named Lilou who struts around (in costume!) and would love to cuddle with you? Or what if we told you that LAX has a program called PUP—for the "Pets Unstressing Program"—that provides free snuggles from therapy dogs? See, getting stranded in an airport thanks to a delayed flight isn't so bad.
A version of this story ran in 2019; it has been updated for 2023.