The West Coast Is Preparing for Another Super Bloom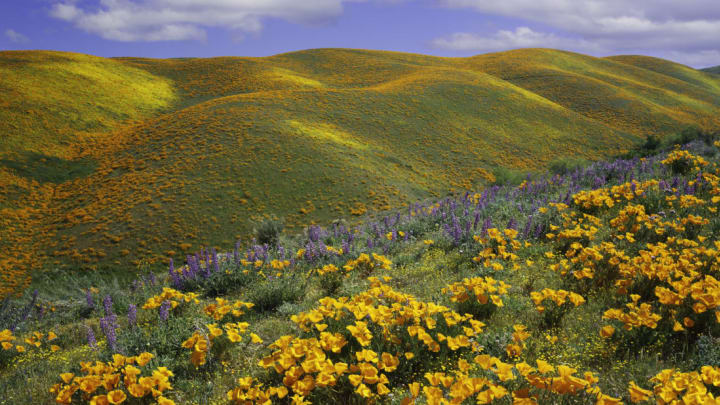 iStock.com/Ron_Thomas / iStock.com/Ron_Thomas
In spring of 2017, people flocked to Southern California's deserts to see fields of wildflowers brightening the normally sparse terrain. That level of vegetation, also known as a super bloom, is an event that only occurs after winters of heavier-than-average precipitation. Now just two years later, the rare sight is about to return to California's Anza-Borrego desert, the Los Angeles Times reports.
The 2018/2019 winter season was an unusually wet one for California. Between October 1 and the beginning of February, Downtown Los Angeles saw 12.91 inches of rain, which is approximately 167 percent more than the seasonal average. All that precipitation will produce an explosion of color when spring arrives in Anza-Borrego desert three hours southeast of Los Angeles. Experts predict the 2019 super bloom could start as early as late February and last through March.
If the last super bloom is any indication, this year's event will attract crowds of sight-seers. Anywhere from 250,000 to 500,000 people visited the desert to look at and snap pictures of the flowers in 2017. Many local communities were overwhelmed by the influx of tourists, but this time around they know what to expect. Portable toilets will be set up around popular sites, and thousands of maps of showing where the flower fields, gas stations, and toilets are located are ready to be passed out to drivers.
Visitors also have a few things to learn from the past super bloom. Two years ago, foot traffic in places like the Antelope Valley California Poppy Reserve was so heavy that trails had to be closed down to protect delicate flowers from selfie-taking tourists.
[h/t Los Angeles Times]