How Americans Celebrated Independence Day in 1777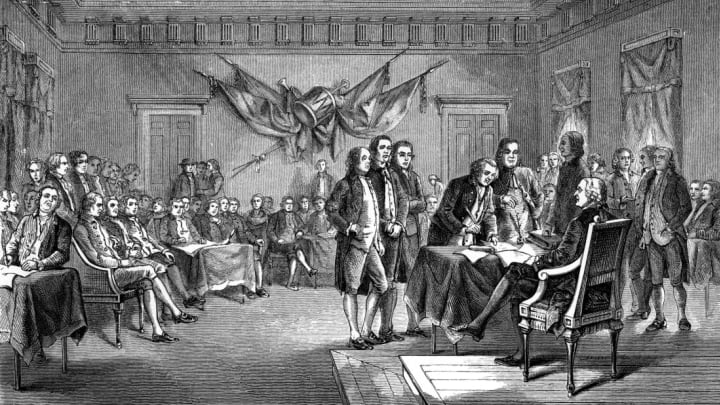 wynnter/iStock via Getty Images Plus / wynnter/iStock via Getty Images Plus
July 4, 1776, may not be the day the Continental Congress declared its independence from England (that would be July 2). It's not even the day that signing of the Declaration began (that would be a month later and drag on for quite some time). But July 4th is the day that an edited version of the Declaration of Independence was ratified by Congress, and that's the date that appears on the copies that were distributed to the soon-to-be states.
Unofficially*, the celebrations started just a year after the Declaration was ratified. A July 18, 1777 issue of the Virginia Gazette—but with the article dated July 5—describes the scene in Philadelphia, and it sounds awfully familiar:
"Yesterday the 4th of July, being the Anniversary of the Independence of the United States of America, was celebrated in this city with demonstration of joy and festivity. About noon all the armed ships and gallies in the river were drawn up before the city, dressed in the gayest manner, with the colours of the United States and streamers displayed. At one o'clock, the yards being properly manned, they began the celebration of the day by a discharge of thirteen cannon from each of the ships, and one from each of the thirteen gallies, in honour of the Thirteen United States."
We might not employ cannons, or have 13 states anymore, but the "colours of the United States" should be on full display today. There were even fireworks, and a pretty good prediction for how we would feel 240-plus years later:
"The evening was closed with the ringing of bells, and at night there was a grand exhibition of fireworks, which began and concluded with thirteen rockets on the commons, and the city was beautifully illuminated. Every thing was conducted with the greatest order and decorum, and the face of joy and gladness was universal. Thus may the 4th of July, that glorious and ever memorable day, be celebrated through America, by the sons of freedom, from age to age till time shall be no more."
* Technically speaking, the United States doesn't have any "national" holidays—official holidays established by Congress or the President only apply to D.C. and federal employees. States must independently adopt holidays, and of course, they often do. This applies here only to clarify that while it took until 1870 for Congress to declare the Fourth of July a federal holiday, it was first "officially" commemorated with a holiday in Massachusetts in 1781.