How to Thrive For a Month Out of Your Backpack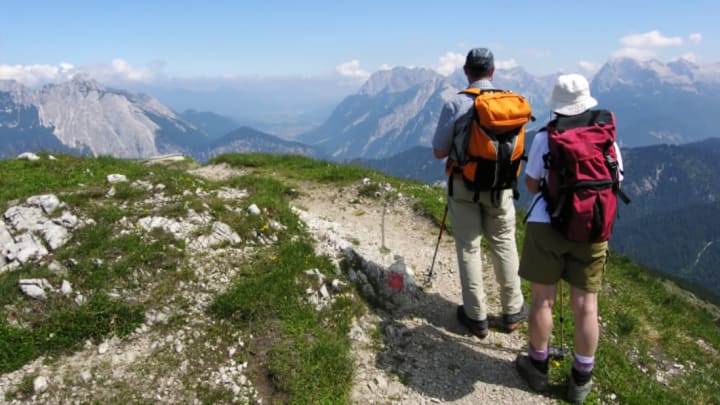 istock / istock
You may not be able to fit your entire life into a backpack, but that's what makes living out of a single bag an adventure. You'll be surprised at just how much you can jam into your pack if you plan ahead.
1. Count Your Threads
Research the climate of where you're going. Even if you plan on staying in the same place, chances are the weather will vary over the month. Versatility is key, and we don't mean light and dark jeans. Bring comfortable clothes that you won't mind wearing a lot and can be easily layered. Make sure they are durable and designed for the environment you are venturing into.
2. Pack A Few Luxuries
Remember, you plan on thriving out of your backpack, not merely surviving. This means bringing non-essentials that will brighten the down time on your adventure. E-readers fit an endless supply of entertainment into a small package, and a tablet computer or small laptop will keep you connected to the outside world—if you're into that sort of thing. Solar chargers are a great way to keep these devices powered. You never know when you'll need to make an emergency phone call—or snap a once-on-a-lifetime picture.
3. Gear Up
A single-person tent can fit at the bottom of your pack and may prove to be your best friend (especially in wind and rain). Inflatable roll mats are space—and back—saving, and don't forget a sleeping bag if the adventure calls for it. Depending on how much camping you'll be doing, don't forget to bring along a flashlight with extra batteries, fire-making tools, and whatever cooking supplies you'll need.
4. Plan for Emergencies
A small first aid kit will be key. Even if you aren't trekking into the wilderness, you never know when you'll need a bandage or antiseptic. Make sure to pack spare glasses and contact lenses, and bring all the prescriptions you're going to need as well. If you have to boot out an extra pair of socks to make it fit, so be it—it'll be worth it in the long run. Also, an emergency food supply is a great idea as well. Bring enough compact, lightweight food like energy bars to last for a couple of days, and don't forget to replenish the supply if you run out.
5. Tool Around
Be sure to pack a utility tool—it will get you out of jams you didn't even know you'd get into. As an added bonus, most have bottle openers, which will come in handy during social adventures with new friends you meet along the way.
Whether you're switching gears or following your own passions, the all-new 2015 Subaru Outback is built to take you to the place you've never been. Learn more or schedule a test drive today. www.subaru.com