Okilly Dokilly, a Ned Flanders-Inspired Metal Band, Just Made Their Simpsons Debut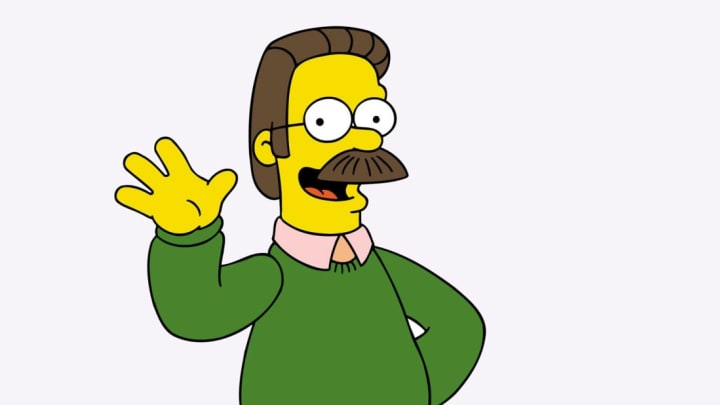 Fox / Fox
Most Simpsons fans associate Ned Flanders with mustaches, green sweaters, and Bible verses—not heavy metal. That may change following the 659th episode of The Simpsons, which featured an end-credits cameo from the "Nedal" band Okilly Dokilly, Rolling Stone reports.
Okilly Dokilly formed in 2015 when a group of friends were brainstorming silly names for a heavy metal band. They came up with Okilly Dokilly, the catchphrase of Homer Simpson's wholesome neighbor, and from there they conceived an entire band around the cartoon character.
The five members of Okilly Dokilly (currently Head Ned, Shred Ned, Zed Ned, Dread Ned, and Bed Ned) all dress like Ned Flanders on stage. Their songs are inspired by Flanders quotes, with track titles like "Flanderdoodles," "Godspeed Little Doodle," and "Donut Hell" featured on their debut studio album Howdilly Doodilly.
On April 7, the band's music video for "White Wine Spritzer" (Flanders's drink of choice when he loosens up in Vegas in Season 10) was played in the middle of the end credits for The Simpsons. Simpsons showrunner Al Jean had discovered Okilly Dokilly via a Google Alert, and decided they had to be on the show. The band has released two albums, including Howdilly Twodilly, which came out last month, and toured internationally, but their Simpsons appearance may be a career highlight.
Okilly Dokilly isn't the only band name inspired by The Simpsons. Evergreen Terrace, also part of the metal genre, takes its name from the home of Homer, Marge, Bart, Lisa, and Maggie.
[h/t Rolling Stone]