10 Excellent Facts About Keanu Reeves
Beirut-born Keanu Reeves has been a Hollywood fixture since the mid-1980s, shifting from early dramatic turns in films like River's Edge (1986) to action thrillers like Speed (1994), The Matrix (1999), and John Wick (2014) and an indelible performance as Theodore "Ted" Logan in the Bill & Ted franchise.
For more on the actor, including why he believed he was sent to "movie jail" for a decade, read on.
1. Hockey kept Keanu Reeves busy as a kid.
Born to a half-Hawaiian, half-Chinese father and an English mother in 1964, Reeves was raised in Toronto, where he was swept up in the appeal of ice hockey. He played throughout school and even co-coached a hockey club. While there, Reeves had an opportunity to try out for the Windsor Spitfires, a hockey team in the Ontario Hockey League. Reeves turned it down, believing his future was in performing. Later, he would portray a hockey pro alongside Patrick Swayze and Rob Lowe in 1986's Youngblood.
2. Alice Cooper used to come over to Keanu Reeves's house.
Reeves's mother was a costume designer, which likely contributed to his interest in the performing arts. He told Us magazine in 1995 that she made him some elaborate Halloween costumes—Dracula, Batman, Cousin Itt—and often had some of her clients over to the house. Among them: Alice Cooper. "I remember he brought fake vomit and dog poo to terrorize the housekeeper," Reeves said. "He'd hang out, a regular dude."
3. Keanu Reeves almost renamed himself "Chuck Spadina."
When Reeves came out to Los Angeles in the 1980s, he found that some casting agents were resistant to having him come in for auditions because his first name (which means "cool breeze over the mountains") was hard to pronounce and seemingly too exotic. In order to combat this hurdle, Reeves began using "K.C. Reeves," "Chuck Spadina," and "Page Templeton III" instead. Reeves eventually abandoned the practice because he would go to auditions and tell them his real name anyway.
4. It's possible that Keanu Reeves accidentally married Winona Ryder.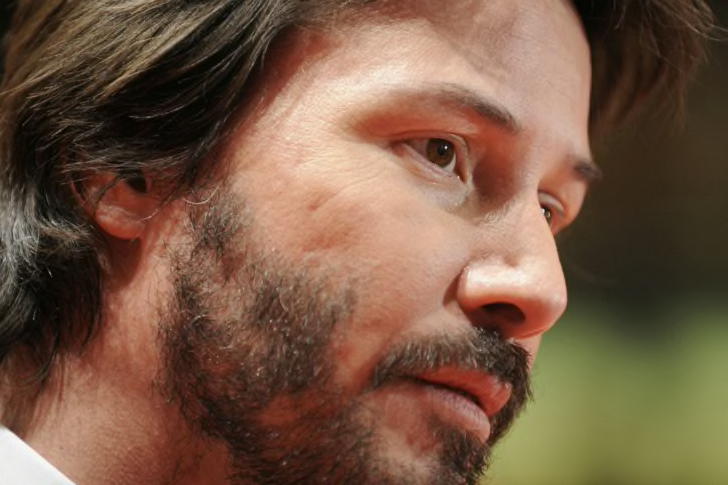 While shooting 1992's Bram Stoker's Dracula, Reeves and Winona Ryder—who played Jonathan and Mina Harker, respectively—appear in a scene in which their characters get married. Ryder later pointed out that director Francis Ford Coppola used a real priest in the scene and that both actors said their vows, meaning they might actually be married. Coppola agreed with this theory, although it's not known whether the priest used their character names or the actors' real names during shooting.
5. Keanu Reeves has been willing to defer his salary to get other actors in his movies.
Reeves has worked with an impressive list of actors in his career, including Al Pacino (1997's The Devil's Advocate), Gene Hackman (2000's The Replacements), and Jack Nicholson (2003's Something's Gotta Give). In at least the first two instances, he willingly deferred his compensation in order for the productions to free up some of their budget to be able to afford the actors. "Is that all I have to do?" he recalled asking producers. "Sure! What else do I have to do? 'Cause I'll do it!"
6. Keanu Reeves says turning down Speed 2 put him in "movie jail" for 10 years.
After the success of 1994's Speed, where Reeves portrayed a cop trying to save the lives of people trapped on a bus rigged to explode if it dips below 50 miles an hour, the studio was understandably eager for a sequel. At the time he was shown the script, Reeves was shooting the 1996 action film Chain Reaction and was growing wary of roles where he was "running and jumping" for little to no reason. He turned Speed 2 down, a move that he believed led to a decade of "movie jail" where he was offered no other roles by Fox. Ultimately, the sequel was made; Reeves was replaced by Jason Patric, who co-starred with Sandra Bullock in 1997's Speed 2: Cruise Control. The film was not well-received, and Reeves appears to have no regrets about saying no to it. At the time he turned it down, he recalled telling director Jan de Bont, "You know, boats aren't that fast."
7. Keanu Reeves has been booed offstage.
Reeves infamously toured with his band, Dogstar, in the 1990s, which played what he once described as "like, folk music," or "folk thrash." When they were invited to play Metalfest in Milwaukee, the band stood out in sharp contrast to the heavier acts on the bill. Reeves recalled that the crowd "threw beer at us and told us to f*** off and yelled, 'You suck!' It was beautiful. It made me laugh."
8. Keanu Reeves was tricked into appearing in The Watcher.
In 2000's The Watcher, Reeves plays against his typical onscreen affability as a serial killer in a cat-and-mouse game with a detective (James Spader). According to Reeves, he was actually tricked into appearing in the film when a (presumably former) friend forged his signature on the contract. Daunted by the prospect of trying to prove it was a forgery, he decided to go ahead and do the movie. "I couldn't prove he did and I didn't want to get sued, so I had no other choice but to do the film," he said.
9. Keanu Reeves has a recurring role on a television show you probably haven't heard of.
It's not unusual for film actors to take roles in one of the many prestige television series airing on streaming and premium networks. Reeves, however, seems to have taken a low-key approach to television, opting for a small recurring role in Swedish Dicks, a U.S. and Scandinavian co-production about two private detectives from Sweden trying to earn a living in Los Angeles. Reeves's friend, actor Peter Stormare, is one of the stars. The comedy airs on the Pop TV channel in the U.S.
10. Keanu Reeves has published books of his own poetry.
In 2011, Reeves collaborated with artist Alexandra Grant for Ode to Happiness, a limited-run book featuring a poem written by Reeves and accompanied by Grant's illustrations for each line. The composition ("I draw a hot sorrow bath") is self-aware in its overwrought approach that Grant likened to a "grown-up children's book." The two have since gone on to work on 2016's Shadows, a similar poem and art project featuring photos of Reeves, and are now pursuing their own publishing imprint, X Artists' Books, to showcase titles with a visual aesthetic that are sold via art stores or an online subscription.