8 Surprising Facts About James Dean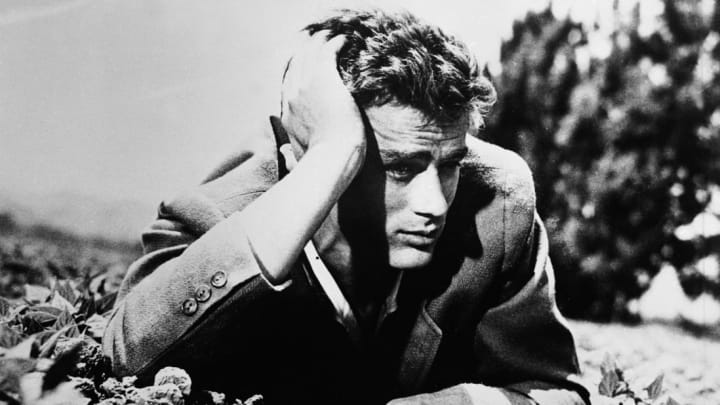 Hulton Archive/Getty Images / Hulton Archive/Getty Images
Despite starring in just three major feature films before his untimely death after a car accident at age 24 in 1955, James Dean has endured. The actor, who was born on February 8, 1931, was known for his performances that utilized the immersive "Method" acting technique. And though it's been nearly 65 years since his passing, Dean continues to be the barometer for both effortless cool and committed performing. Let's take a look at some of the more interesting facts behind his life and career.
1. James Dean's first professional acting job was for a Pepsi commercial.
Dean was born on February 8, 1931 in Marion, Indiana to Winston Dean, a dentist, and Mildred Wilson. When Dean was just nine years old, Mildred passed away from cancer, so Winston sent Dean to live with his aunt and uncle near rural Fairmount, Indiana, where he grew up on a Quaker farm and was a standout high school athlete. Upon graduating from high school in 1949, Dean hopped a bus to California in order to pursue acting while attending Santa Monica City College. But his first role was likely not up to the level of his talents: Dean was cast as part of an ensemble for a Pepsi commercial and seen dancing and singing around a jukebox. He was paid $30.
2. James Dean was a parking lot attendant.
Dean moved from Santa Monica City College to the University of California, Los Angeles, where he majored in theater, but soon dropped out. He then scored a series of minor roles in features, including 1952's Sailor Beware, a Dean Martin and Jerry Lewis comedy. Despite these breaks, Dean was still short on cash and worked as a parking lot attendant for CBS Studios until he moved to New York City in 1951 to study performing under famed acting coach Lee Strasberg.
3. James Dean was a "stunt tester" for a game show.
After moving to New York, Dean was still in need of a steady paycheck. He became a "stunt tester" for the game show Beat the Clock, in which contestants were given tasks to complete in a given period of time. Producers needed to be sure the tasks were practical, so Dean was among those who tested them prior to airtime. Unfortunately for Dean, he completed them rapidly, which gave the show little idea of how a more average guest might fare. He was fired.
4. James Dean earned his first fan club with a television movie.
James Dean in Rebel Without a Cause (1955). / Warner Home Video
In 1951, Dean appeared as John the Apostle in Family Theater, an anthology television series that was presenting Hill Number One: A Story of Faith and Inspiration. Despite being years away from major stardom, his presence so captivated the teen Catholic school girls at Immaculate Heart in Los Angeles that they formed the Immaculate Heart James Dean Appreciation Society, one of dozens of fan clubs that would spring up in Dean's name in the years to come. He would also go on to make 20 different television appearances before being cast in 1955's East of Eden.
5. James Dean didn't always bother to learn his lines.
With East of Eden, the adaptation of the John Steinbeck novel, Dean came into his own as a screen performer. But according to co-star Raymond Massey, Dean's Method approach could often complicate things for his fellow actors. Dean never knew his lines before coming on set and would often ignore things like moving on cue or finding his marks. Dean was also prone to preparing by himself, then blowing a whistle when he was ready to let the other actors know it was time to shoot.
6. James Dean may have had a relationship with Jerry Seinfeld's onscreen mother.
In 2000, actress Liz Sheridan wrote Dizzy and Jimmy: My Life with James Dean, a memoir about her yearlong relationship with the actor while the two were living in New York in the 1950s. Sheridan later portrayed Helen Seinfeld, Jerry's mother, on Seinfeld.
7. James Dean was nominated for two Academy Awards, both posthumously.
While Dean only starred in three major feature films prior to his death in 1955, the general public had only seen one—East of Eden—before a car accident took his life. (Dean's Porsche collided with a Ford Tudor sedan on September 30, 1955, at an intersection in Cholame, California. Donald Turnupseed, the driver of the Ford, and Dean's passenger, mechanic Rolf Wütherich, both survived. ) His next film, 1955's Rebel Without a Cause, was released less than a month after the collision. His third film, 1956's Giant, followed. As a result, Dean actually received two posthumous Best Actor nominations at the Academy Awards: one for East of Eden in 1956, which was the Academy Awards's first-ever posthumous acting nomination, and another for Giant in 1957.
8. James Dean's headstone kept getting stolen.
Such is the appeal of Dean even in death that his resting place in Park Cemetery in his hometown of Fairmount, Indiana has repeatedly been subject to theft. In 1983, someone took off with Dean's tombstone. It was recovered and then stolen a second time that same year. It remained missing until it was discovered behind a fire station in 1987. The replacement marker was safe until 1998, when it disappeared. An off-duty sheriff's deputy found it after inadvertently running into it on a county road.