Improve Your Terrible Desk Posture With This Supportive Seat Cushion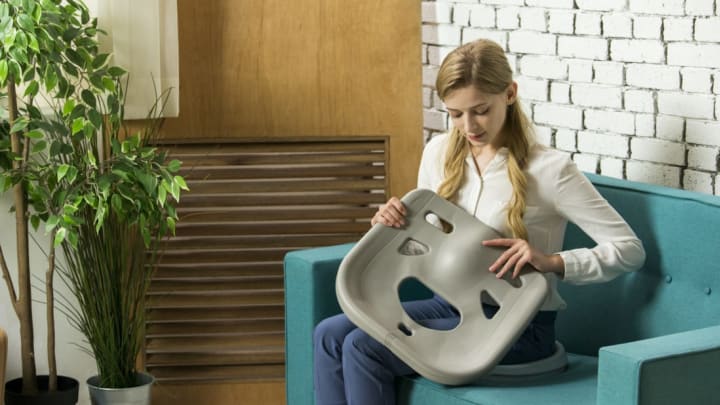 EVA Cushion / EVA Cushion
This article contains affiliate links to products selected by our editors. Mental Floss may receive a commission for purchases made through these links.
If your job requires you to work at a desk, you may already be aware of the consequences of poor posture. Sitting hunched over a keyboard all day can lead to back pain, neck pain, sciatica, and more. Fortunately, you don't need to switch careers or even invest in a standing desk to combat these symptoms: With the EVA Cushion, a posture corrector available through Kickstarter, you can make any seat ergonomic and comfortable.
The EVA Cushion eases back pain by improving your posture. The shape of the cushion is designed to lift your tailbone and support your thighs and buttocks, maintaining your back's natural S-curve for minimal spinal compression and maximum ergonomic comfort. The cushion is made from ethylene-vinyl acetate (EVA), a material that's just as durable and supportive as it is soft and flexible. Unlike seat cushions made from memory foam (which can break down over time), the EVA seat is designed to last through years of heavy use.
The EVA Cushion is perfect for an office chair, but it works just as well on other types of seating, such as stadium seats, wheelchairs, sofas, and car seats. It's light and bendable, making it easy to take it with you wherever you go.
Buy it on Kickstarter for a pledge of $39 or more before the campaign ends on August 3.