Harry Potter Fans Can Now Spend the Night in a Cottage Modeled After Hagrid's Hut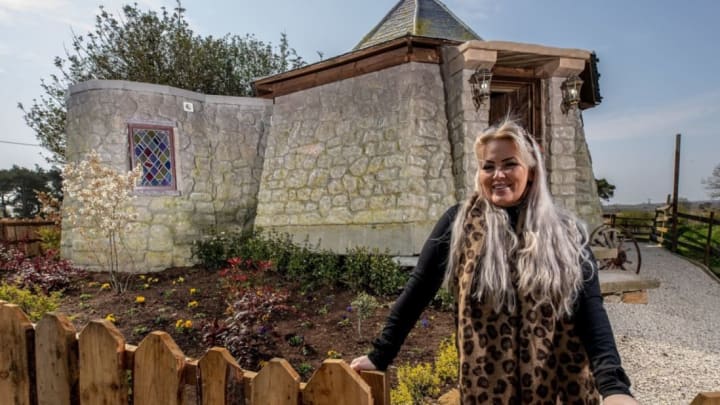 North Shire owner Carol Cavendish / Charlotte Graham
Hagrid's hut isn't the most luxurious home in J.K. Rowling's Wizarding World, but with a roaring fireplace, rustic furniture, and magical pets, it might just be the coziest. Now, fans of the Harry Potter books and films can spend the night in a cottage modeled after the home of the Hogwarts groundskeeper.
As Travel + Leisure reports, the Groundskeeper's Cottage recently opened in North Yorkshire, England. The exterior resembles the hut where Rubeus Hagrid, played by actor Robbie Coltrane, lives in the Harry Potter movies. The walls are cobbled together from mossy stones and topped by a whimsical peaked roof.
Charlotte Graham
The inside is slightly classier than Hagrid's original lodgings. Guests can soak in a copper tub in the green-tiled bathroom, or curl up on the sofa in the living room while a kettle boils in the fireplace. A few items that reflect Hagrid's personal style, such as lanterns, ropes, and old bottles, have been placed around the home.
Harry Potter fan Carol Cavendish created the attraction as part of North Shire, a vacation destination that also offers accommodations inspired by J.R.R. Tolkien's The Lord of the Rings. The Groundskeeper's Cottage was designed by Billy Cessford, a prop maker and set designer who works for film and theater. Recreating Hagrid's hut cost about $250,000—a budget that was partially funded by a grant from the Rural Development Program for England.
It can be rented out to groups of up to six for about $250 for night. You can book your stay here.
Charlotte Graham
Charlotte Graham
[h/t Travel + Leisure]