16 Out-of-Context IKEA Instructions to Help You Live a Better Life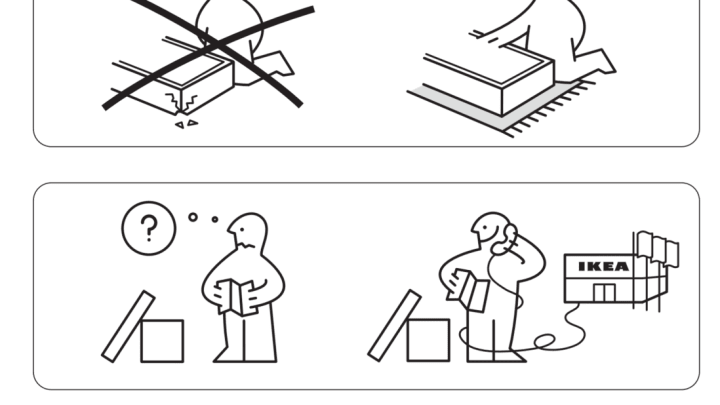 Ikea.com / Ikea.com
Printed without words, IKEA instructions are meant to be used around the globe. Someone in Tokyo can build his KLÄPPE swivel chair from the same booklet as a college kid in her Maryland dorm.
This saves the Swedish furniture manufacturer tons of money in printing costs, but it also serves a surprising purpose: Taken out of context, certain pages and details from IKEA instruction books can be interpreted as guides to living a fuller and more happy life. Here are 16 examples.
1. Relax
You earned it. Follow steps 1-3 as shown above for maximum relaxation. If you don't feel like going all the way, stop at step 2. This is you time.
2. Wash Your Garbage
Sanitation workers will appreciate and even look forward to your spring-fresh bag of trash on collection days.
3. Attach Wheels to Your Pet Starfish
Now he's the fastest echinoderm on the block. Look at him go!
4. The Area Behind the Knee is Very Sensitive
It's a little-known erogenous zone, as demonstrated by the shaded "heat" sphere above.
5. There's Your Wallet
Right there, underneath that thing with all the other wallets.
6. Have a Beer
Long day? Kick back with a cold one or two, which will be floating in space for you to grab when you're ready.
7. Stefan Is Gone
And he's never coming back. Time to move on.
8. Check Under and Inside Your Grand Piano Twice a Year
There may be loose change or even forgotten treats that have accumulated down there. Best to make sure.
9. Don't Be Glum
There's a daybed right behind you. Lie down for a bit and think about things that'll cheer you up. Remember the Home Improvement episode where Tim enters the lawn mower race? That was a good one. Think about that.
10. Diving Boards Make Great Presents
Attach a bow to the bottom to give your gift some decorative flair.
11. Look Up
There, at those branches. Fall is around the corner; you can tell by how the leaves are changing color.
12. Do Squats
A great butt isn't given, it's earned.
13. Start At the Top Right Square for Tic-Tac-Toe
It's the secret to winning this classic game.
14. Fonzie Melted
Fold up what's left of the King of Cool for easy storage.
15. You Only Really Need Two Keys
Why are you lugging around that loaded keychain? Free up some much-needed pocket space by streamlining.
16. No Sketches of Punch and Judy
A hastily drawn outline doesn't do these beloved characters justice.
[All images from IKEA product instructions. Source Products: Karlstad, IKEA PS, Mysinge, Pax Tonnes, Premiar, Rakke, Rationell, Smaldal, Stefan, Tylosand, Udden, Verner, Vreta]