ThinkGeek Is Merging With GameStop, and Everything Is 50 Percent Off Right Now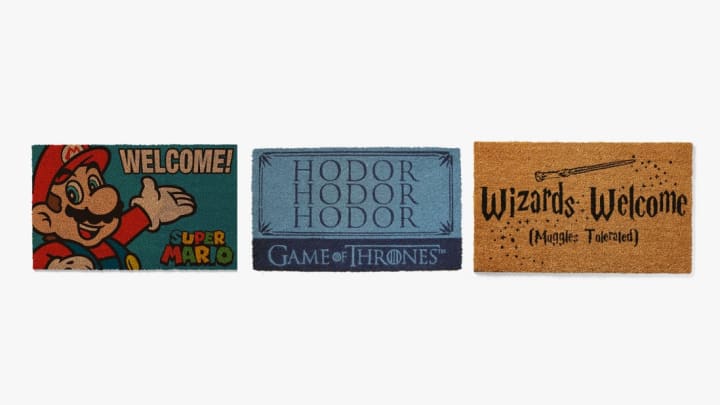 ThinkGeek / ThinkGeek
This article contains affiliate links to products selected by our editors. Mental Floss may receive a commission for purchases made through these links.
ThinkGeek, that beloved destination for nerdy goods like Star Trek bathing suits, Game of Thrones doormats, and astronomy-themed jewelry, is moving. While the site isn't going out of business, it is merging operations with its parent company, GameStop, and shutting down its website in the process. "After this move, you will be able to shop a curated selection of unique items historically found on ThinkGeek.com via a ThinkGeek section at GameStop," the site explains. And that's good news for you, if you're looking for a bargain. 
ThinkGeek is clearing out inventory by offering 50 percent off everything on its website. That includes 20-side-die-themed waffle makers, constellation lamps, unicorn wall sconces, and more. There are whimsical goods and apparel designed for fans of everything from Doctor Who to The Avengers to Star Wars to J.R.R. Tolkien to Harry Potter to Firefly to Pokemon. Love Funko POP! figurines? ThinkGeek has you covered. What about Super Mario Bros.? Heck yeah. This would be a great time to search for a Halloween costume.
Here are a few things that we would buy if we were you, but there are more cool designs available than we could ever highlight here.
This 34-ounce TARDIS French press coffee maker is just $20.
ThinkGeek has a bunch of pop-culture themed wallets, but this Star Trek one is extra cool. And it is now just $10. (The NASA one is also great.)
This constellation backpack is out of this world. It's just $24 with the discount.
For $7.50, it's hard to resist this Mario-themed soap dispenser. Add a Mario-themed toothbrush holder to really make getting ready in the morning fun. If you're all about that bar soap, there's also a soap dish.
Wrap yourself in happiness with this Bob Ross-themed blanket that is just $17.50.
If you want to wear your fandom, this Harry Potter Deathly Hallows necklace set is an attractive choice. They're just $7.50 for two.
This handsome Mars watch doesn't have typical hour and minute hands. The moon Phobos orbits the Red Planet as the minute hand, the moon Deimos is the hour hand, and a miniature Mars rover takes the place of the second hand. It's a steal at just $20. 
When it's filled with hot liquid, this Game Boy mug changes from a blank screen to an image of Mario rescuing Daisy. It's only $7.50.
Several '90s cartoon-themed lunch boxes with puzzles are on sale, including ones celebrating Rocko's Modern Life, Hey Arnold!, and Rugrats. The puzzles that come inside the tin lunch boxes are 500 pieces. At less than $5 each, you should go ahead and buy all three.
Shop the sale here using the code MOVINGDAY until July 2. Unfortunately, because of the nature of the sale, all purchases are final, and you'll have to pay for shipping.
Mental Floss has affiliate relationships with certain retailers and may receive a small percentage of any sale. But we choose all products independently and only get commission on items you buy and don't return, so we're only happy if you're happy. Thanks for helping us pay the bills!