7 Times Sesame Street Taught Kids About Real Life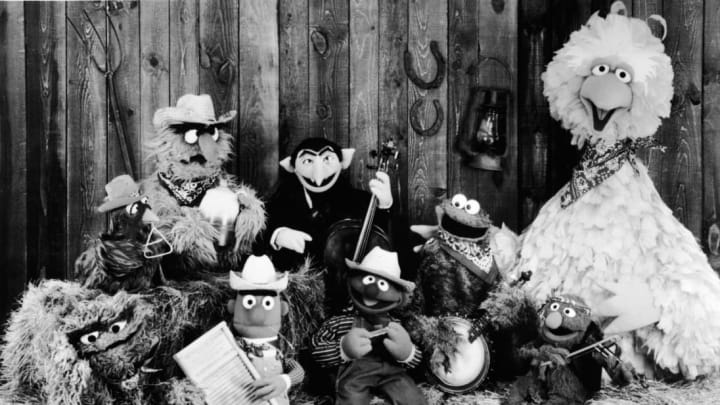 Children's Television Workshop, Courtesy of Getty Images / Children's Television Workshop, Courtesy of Getty Images
For 50 years, Sesame Street has taught kids how to count, how to spell, and that not all vampires are scary. But the lessons have gone far beyond the academic. From racism to death, the iconic series hasn't shied away from broaching tough topics and letting kids know that life isn't always full of sunny days.
1. Mr. Hooper dies
If you were a kid in the 1980s, you likely remember Thanksgiving 1983—the day that Sesame Street confronted the death of Will Lee, who spent 14 seasons playing Mr. Hooper. Big Bird draws a picture of Mr. Hooper and wants to show it to him, but the human cast members remind him that Mr. Hooper died—then try to help Big Bird understand what that means. Parents watched with their kids and answered questions they had about death.
2. Telly learns about racism
In 1993's "Racism on Sesame Street," Gina (who is white) gets an upsetting phone call from a stranger who is angry that she is friends with Savion (who is black). Telly Monster witnesses the incident and is confused. "What does color got to do with being friends?" Telly asks. "Nothing at all," Gina tells him. "That's the point."
3. Elmo reacts to 9/11
Sesame Street calls New York City home, so it made sense that the show would address the September 11 terrorist attacks—but they had to do so carefully. They used a fire in Hooper's Store as a metaphor. To understand his fears, Elmo visits a firehouse and learns just how dangerous—and important—a firefighter's job is, which makes him feel safe again.
4. Snuffy shows himself
The idea of a child—or an enormous yellow bird with a childlike sensibility—having an imaginary friend isn't problematic. But after 14 years of milking Mr. Snuffleupagus's consistently imperfect timing for comic relief, Sesame Street's producers realized that Big Bird's insistence that Snuffy was real, and the human cast members' belief that he was imaginary, could lead some kids to think that adults could be dismissive of the truth. So on November 18, 1985, Snuffy finally got the chance to meet all of Big Bird's friends and was welcomed into the family.
5. Kami is HIV-Positive
In 2002, Sesame Street introduced Kami—an HIV-positive Muppet whose name comes from kamogelo, which means acceptance in Setswana. Though she was created for Takalani Sesame, South Africa's version of Sesame Street, she has become a global symbol of the importance of HIV/ AIDS education.
6. Buffy breastfeeds her baby
It's hard to imagine a children's show today that would address breastfeeding as directly as Sesame Street did in 1977. When Big Bird sees Buffy Sainte-Marie nursing her child and asks what she's doing, Buffy says, "I'm feeding the baby. See, he's drinking milk from my breast." Big Bird's reply? "That's a funny way to feed a baby." Buffy explains that lots of mothers (but not all) feed their children that way, normalizing nursing for a new generation of kids.
7. Julia has autism
In 2015, Julia—a preschooler with autism "who does things a little differently when playing with her friends"—was introduced as part of a digital campaign. But her popularity grew, and in 2017, she became the first new Muppet cast member in nearly a decade. Big Bird was there to greet her; he asked questions that kids might have when Julia wouldn't shake his wing or got visibly upset at the sound of a siren. Her family was introduced in April 2019.