Colorado Welcomed Summer With 2 Feet of Snow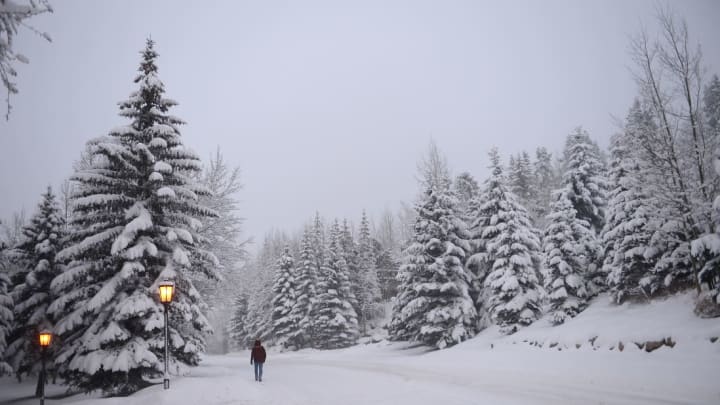 Emmanuel Dunand/AFP/Getty Images / Emmanuel Dunand/AFP/Getty Images
While people in some parts of the country celebrated the first day of summer with barbecues and trips to the beach, residents of north and north-central Colorado had a snow day. Areas west of Denver—including Grand Lake, Aspen, and Steamboat Springs—experienced snow storms on summer solstice, with snowfall totaling nearly 2 feet at the highest elevations, CBS Denver reports.
Snow started falling in the Rocky Mountains the morning of Friday, June 21 and continued Sunday. Areas at ground level weren't cold enough to experience the unusual weather, but at elevations of 7000 feet and above, it looked like a winter wonderland. Steamboat Springs, a ski resort town in Colorado's Yampa Valley, accumulated 20 inches of snow on the longest day of the year.
While Colorado mountain towns are used to seeing snow at odd times of year, the weekend's weather was still out of the ordinary. The average snowfall for Steamboat Springs in June is 0.1 inches. Prior to last Friday, it had been 91 years since a snowstorm hit the city in late June.
Snow has fallen in the Rockies later than average in six out of the past seven years. Though it feels like an extension of winter, the trend may actually be a product of the warming atmosphere. A warmer climate affects the jet stream, potentially pushing its course further south and leading to unusual weather patterns, such as unseasonable snowstorms in Colorado.
That means residents of some parts of the state will have to wait to have their summer hikes and picnics. The weather was serious enough to shut down one road in Rocky Mountain National Park.
[h/t CBS Denver]