New The Walking Dead Series Is Casting Extras in Richmond, Virginia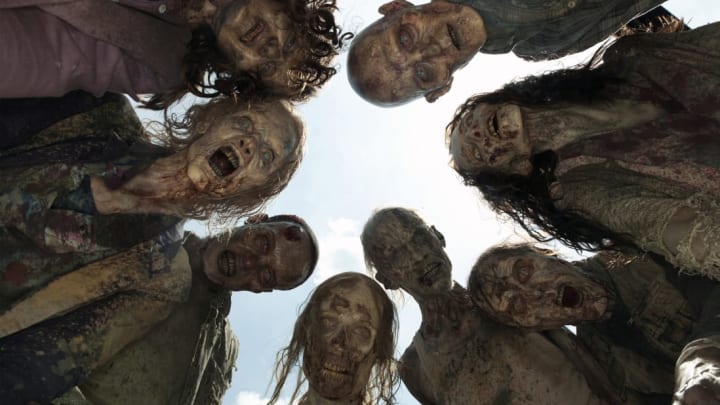 Frank Ockenfels 3, AMC / Frank Ockenfels 3, AMC
Watch enough episodes of The Walking Dead on AMC and you may start to wonder how you would fare in a zombie apocalypse. If you live in the Richmond, Virginia area, you now have an opportunity to act out those fantasies in real life. As WTKR reports, Kendall Cooper Casting is seeking extras to appear in a new spin-off series of The Walking Dead.
The yet-to-be-titled series set in The Walking Dead universe will be the show's second spin-off following Fear the Walking Dead, which is currently in its fifth season. Filming begins in Richmond and the surrounding area in July 2019 and will continue though November.
Ahead of filming, the show is seeking background actors. The casting call posted on Kendall Cooper Casting's Facebook page states that the production is looking for "people of all ethnicities, ages, genders, and types to play various characters throughout the series." Actors with experience in movement and dance are preferred. The job description doesn't specify whether actors will be playing people fleeing from the undead, the zombies themselves, or some other type of character on the show (though that note about experience in movement might hint at the need for some extra walkers).
SAG-AFTRA members as well as non-union actors are encouraged to submit their information, but only SAG-AFTRA actors are invited to the open casting call that's being held on Saturday, June 29. Union members can email OpenCallDetails@gmail.com for more information. Regardless of your union status, you can send an email with your contact information, measurements, experience, and schedule flexibility along with three current photos to RVAextras@KendallCooperCasting.com.
For many shows, background acting isn't complicated work, but being an extra on The Walking Dead requires some training. Actors have to attend "zombie seminars" where they must perfect the walk of the undead before graduating to the makeup chair.
[h/t WTKR]