The Best Time of Year to Visit 5 of America's Most Popular Destinations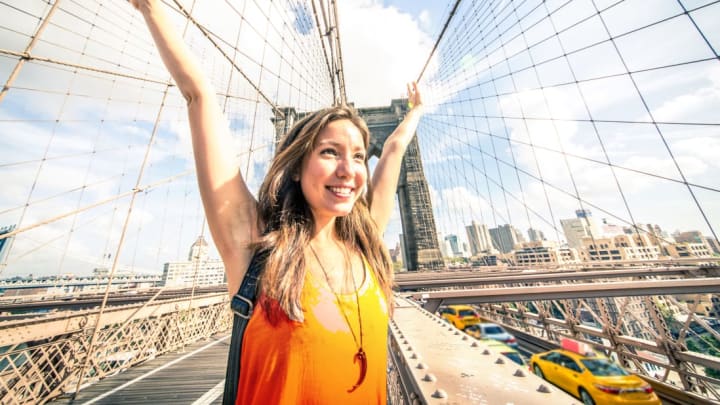 iStock via Getty Images Plus / iStock via Getty Images Plus
There comes a point where we all need a vacation. But determining exactly where to go—and when to plan your visit—requires a little legwork on your part, particularly if you're looking to save a few dollars. For those of you getting ready to plot out an upcoming getaway, it's never too early to start considering your options. Below are the best times to visit five of America's most popular destinations, presented by Mental Floss and Discover.
1. New York City
New York City may have a reputation for being a pretty pricey destination, but it doesn't have to be—as long as you know where to look, and when to visit. While the weather is at its loveliest during the fall (from late September to early November), if you can handle a bit of humidity, there are deals to be had during the summer months—July and August in particular—even though they are some of the city's busiest.
Though it may sound counterintuitive, spending a weekend in the City That Never Sleeps can be one way to save some coin, as the many business travelers who regularly visit the city tend to clear out before the weekend hits. Plus: With its range of parks, outdoor movie venues, free concerts, street fairs, and never-ending stream of things to do, you'll find plenty of ways to experience all the culture the city has to offer without breaking the bank.
2. Maui
There are a lot of factors to consider when booking a trip to Hawaii: If you plan to spend the bulk of your time outdoors (it is Hawaii, after all), your best shot at a rain-free retreat is to visit between April and September. However, hurricane (or cyclone) season lasts from June to November, and peaks in August. And July is the state's most popular month for tourists—meaning that both flights and hotel rooms are at a premium. For the best mix of idyllic weather, fewer rainstorms, fewer tourists, and great deals on pricing, mid-September and October can offer the most bang for your buck.
3. Las Vegas
What happens in Vegas stays in Vegas no matter when you decide to pay a visit. But if you want to feel like you've got Sin City all to yourself, planning a midweek trip (ideally between Tuesday and Thursday) is one smart way to do just that, as the city is a prime weekend destination year-round. Las Vegas is also an extremely popular spot for business conventions—the city hosts more than 20,000 of them each year, the largest of which can significantly drive up hotel prices—you'd be smart to check the tourism bureau's online calendar of conventions and tradeshows to make sure you're not descending on the city at the same time as 20,000 insurance salespeople or cosplayers. Once you've done that, try targeting your trip for March through May or September through November, when the weather tends to stay below 100 degrees.
4. Chicago
Summertime is festival time in Chicago—which means that it's also one of the most popular times to visit the Windy City. But as home to one of the world's busiest airports, which services a handful of low-cost airlines, finding a deal on a flight is never too much of a challenge. Though June and July flight tend to command the highest ticket prices, the difference in price between a flight in May or September might be less than $50 on a round-trip flight. Just plan to book your flight at least two weeks ahead. While the outdoor activities quiet down a bit in August, that's the best time to get a deal on a hotel room in the warmer months (a three-star hotel will run you about $230 per night). If your ideal vacation is more about top-notch museums, restaurants, and shopping, consider a September visit, when the weather is still warm but not stifling—and the beach is still just a quick stroll or taxi ride away.
5. New Orleans
If you're not bothered by heat and humidity, and want to have the Big Easy all to yourself, a summer trip in July, August, or September will be the easiest on your wallet. Though the city itself can be muggy, with temperatures hovering around the 90-degree mark, there are plenty of cool deals to be had: To encourage summer visitors, many hotels will not only drop their prices but throw in extras like a complimentary breakfast or free parking. In order to beat the heat, you can also plan your days around the weather—putting indoor activities on your daytime itinerary, and venturing outdoors once the sun sets and it gets cooler. If your main objective is to get a taste of New Orleans's most famous restaurants, August is the city's annual restaurant month where the most popular NOLA eateries will let you chow down on a three-course brunch or lunch for less than $20 and three-course dinners for $39 or less.
Knowing when to travel is half the battle, the other half is how to finance your trip there. The Discover it® Miles Card will earn you 1.5X miles for every dollar spent on purchases and those rewards never expire. Plus, at the end of your first year, Discover will match all the miles you've earned automatically, which you can put towards another awesome vacation. Visit Discover.com/Travel to learn more!