15 Things You Might Not Know About New York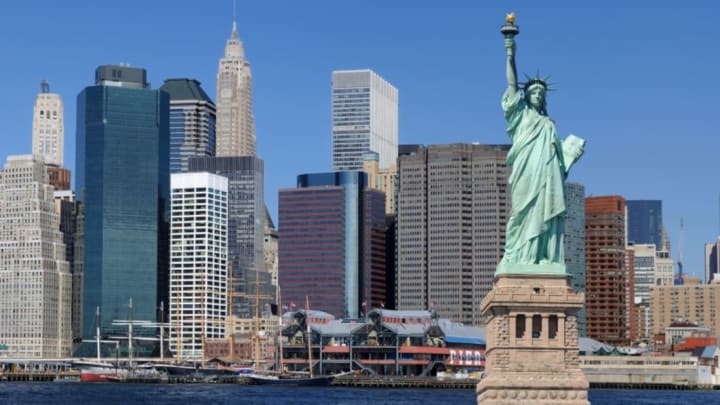 istock / istock
1. You probably know about the Hall of Fame up in the Cooperstown, New York—the one dedicated to the history of baseball. But back in New York City, there's another Hall of Fame: the Stickball Hall of Fame in East Harlem. And the International Boxing Hall of Fame is located in Canasota, New York.
2. In 2011, New York City welcomed over 50 million tourists. All told, they spent over $34 billion.
3. Union College in Schenectady is regarded as the Mother of Fraternities due to its founding of the Union Triad in 1827. Delta Phi, the oldest continually operating fraternity, Kappa Alpha, and Sigma Phi Societies were all started on Union's campus that year.
4. The New York City subway system contains 656 miles of track used for passenger transport. If you include the track in New York City Transit's yards, shops, and storage areas, we're looking at 842 track miles. If you laid all the subway track end to end, it would stretch from New York City to Chicago. 
5. The first railroad chartered in America ran a distance of 11 miles between Albany and Schenectady. The Mohawk & Hudson Railroad (as it was originally called) was incorporated on April 17, 1826, and opened on August 9, 1831. Its name was changed to the more descriptive Albany & Schenectady Railroad in 1847, and ultimately became the New York Central Railroad in 1853.
6. New York City was the nation's capital from 1785-1790. George Washington's inauguration took place in New York City, as did the first Supreme Court and the drafting of the Bill of Rights. Philadelphia had the honor of hosting Congress from 1790-1800, until the Washington, D.C. building that housed it was completed in 1800.
7. Authorities originally turned down P.T. Barnum's offer to walk 12 elephants across the Brooklyn Bridge to test its strength when it first opened in May 1883. But the following year, he went through with the stunt, parading 21 elephants and 17 different types of camels across the bridge.
8. Adirondack Park in upstate New York is larger than Yellowstone, Yosemite, Grand Canyon, Glacier, and Olympic Parks combined.
9. Starting in 1901, New York was the first state to require automobiles to have license plates. The plates were not issued by the state but rather were made by individual owners with their initials on them.
10. Niagara Falls State Park is the oldest state park in the U.S., established in 1885 as the Niagara Reservation. Approximately 3,160 tons of water flow over Niagara Falls every second.
11. The original 1969 Woodstock Music Festival actually took place in Bethel, New York, after Woodstock (and Wallkill) refused to host.
12. The first pizzeria in the nation opened in 1905 in New York City. Lombardi's Pizza, located at 32 Spring Street, is still churning out pies today.
13. Washington Irving was the first person to call New York City "Gotham" in text. It's a reference to a story from the Middle Ages about a town called Gotham (or Gottam), meaning "Goat's Town" in old Anglo-Saxon, that was full of fools. Irving is also responsible for coining the term Knickerbocker; he used the nonsense word as a name for a fictional author he credited with writing a book about the city.
14. The world's smallest church is located in Oneida, New York. Cross Island Chapel sits in the middle of a pond, is just over 28 square feet, and seats two people. It is non-denominational. In order to be considered a real church—and not just a model or children's playhouse—it must have hosted a semi-public religious event. The Madonna Chapel in Bayou Goula, Louisiana, also claims to be the World's Smallest Church—but at 130 square feet, it doesn't come close. Missionary Independent Spiritual Church in Forestville, California, however, may give Cross Island Chapel a run for its money. It claims to have 35 square inches less of internal floor space than Cross Island Chapel.
15. In New York City, there are more than 26,000 people living in each square mile.