15 Things You Might Not Know About Texas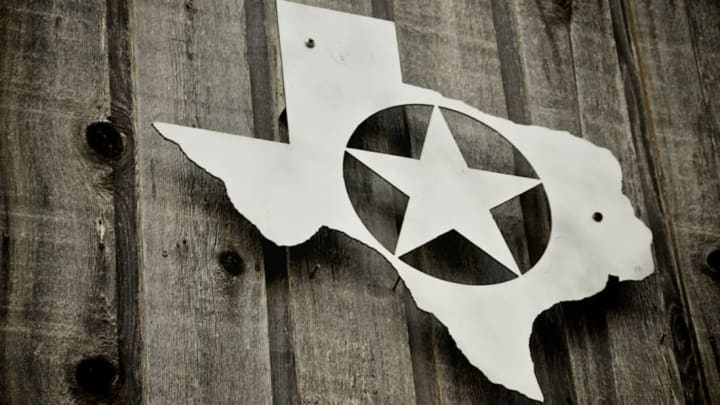 istock / istock
1. They say everything's bigger in Texas, but with an area of 268,602 square miles, Texas is only the second largest state in the U.S. At approximately 663,300 square miles, Alaska is nearly 2.5 times as large. 
2. With 26.06 million residents, Texas also boasts the country's second largest population (behind California, which is home to 38.04 million). However, three of the ten most populous cities in the United States are in Texas: Houston, Dallas, and San Antonio. Austin, the state capital, just barely misses the cutoff—it's the country's 11th most populated city.
3. Things that really are bigger in Texas? Food, mostly. Texas holds the Guinness World Record for the largest Frito pie. It was created at the Texas State Fair in October 2012 and weighed in at 1,325 pounds. The 133-square-foot concoction included 635 bags of Fritos corn chips, 660 cans of Hormel Chili without beans, and 580 bags of shredded cheddar cheese. It fed 5,000 hungry patrons.
4. Texas is also home to the world's largest pecan pie—created by the El Paso Diablos Baseball Club in 1999, it measured 50 feet in diameter and weighed just under 21 tons—and largest bowl of salsa. A 500-gallon bowl of the dip was created by Bob Blumer of the TV show Glutton for Punishment at the annual Tomato Fest in Jacksonville, Texas, in 2010. And as if a 2,672-pound bowl of salsa isn't strange enough, Jacksonville is also "Home of the Concrete Tomatoes." Over 300 painted concrete tomatoes, each weighing 665 pounds, decorate the city.
5. Bruschi, a Boston terrier from Toby, Texas, has the honor of being the dog with the largest eyes. His enormous peepers measure 28 millimeters in diameter. In comparison, the average human eye has a diameter of 24 millimeters.
6. Texas takes its nickname, the Lone Star State, from its state flag. The lone star made its first appearance on the Republic of Texas's flag in 1838 (Texas was an independent nation from 1836-1845), and was adopted as the Republic's national flag in 1839. When Texas became the 28th state in 1845, its national flag became the state flag. To this day, Texas adheres to a rigid code for properly displaying and caring for its state flag. The code outlines the proper way to display the flag on a vehicle, over a street (with different provisions for north-south or east-west streets), at night, or on a casket, to name a few. The Texas state flag also must never trail in water, be used as bedding or drapery, be used to carry anything—I could go on…
7. The Texas Longhorn is the state's official large animal (the official small animal is the armadillo). Its distinctive horns, for which it gets its name, measure an average of 36 to 80 inches from tip to tip. Prime examples of the prized species regularly fetch tens of thousands of dollars at cattle auctions. In 2008, 3-year-old SDR Candy Cane sold at the Texas Longhorn Legacy Sale for a record $170,000.
8. The Texas Longhorns football team (for the University of Texas at Austin), meanwhile, was valued at $805 million in 2012. At the time, the collegiate squad was more valuable than three NFL teams: the Jacksonville Jaguars ($770 million), St. Louis Rams ($780 million), and Oakland Raiders ($785 million). In 2014, Forbes dubbed the Dallas Cowboys the highest-valued NFL team, at a whopping $3.2 billion. The Houston Texans rank fifth, at $1.85 billion. It's safe to say Texas takes its football seriously.
9. While Presidents George H. W. Bush and George W. Bush are strongly associated with Texas, and indeed called it home for many years, neither was actually born in the Lone Star State. George H. W. Bush was born in Milton, Massachusetts, and the younger Bush was born in New Haven, Connecticut. Two American presidents were born in the great state of Texas, however: Dwight D. Eisenhower and Lyndon B. Johnson.
10. Bracken Cave in Comal County, Texas, is the summer home to the largest colony of bats in the world. An estimated 20 million Mexican free-tailed bats dwell there from March to October every year. In 2013, the 10,000-year-old habitat was threatened by a proposed housing development. When the developer decided not to buy the property adjacent to the cave, government officials and environmentalists banded together to raise funds to preserve the property.
11. Dr Pepper (properly styled with no period after "Dr"), was invented in Waco, Texas. Charles Alderton, a young pharmacist, formulated the unique flavor in 1885 while experimenting with different mixtures of carbonated sodas and fruit syrups. His boss, pharmacy owner Wade Morrison, loved Alderton's unique brew and named it Dr Pepper after an old flame's father. Dr Pepper was introduced to almost 20 million people during the 1904 World's Fair Exposition in St. Louis. Waco is still home to a Dr Pepper Museum.
12. Speaking of peppers, jalapeno pepper jelly originated in Lake Jackson, Texas, and was first marketed commercially in 1978.
13. The popular slogan "Don't Mess With Texas" originated as part of a 1986 campaign to reduce litter along Texas roadways.
14. Texas's state motto is "Friendship." This likely originated from the state's name itself, as "Texas" is believed to have been derived from the Caddo Indian word tejas meaning "friends" or "allies."
15. John Wayne, Will Rogers, and Chuck Norris (who starred in Walker, Texas Ranger) are honorary members of the Texas Rangers law enforcement group (not the baseball team).