New Oxford Exhibition Shows What—and How—Ancient Romans Ate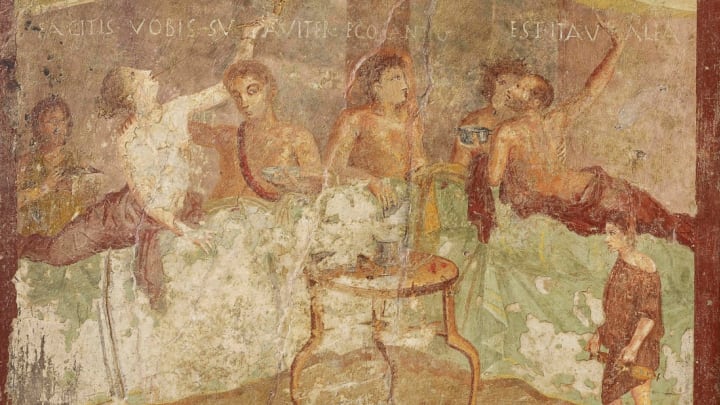 A fresco wall panel showing a dinner party with painted message / Museo Archeologico Nazionale di Napoli
Until 79 CE, the people of Pompeii, a Roman city located in southern Italy, enjoyed riches such as fine wines, decorations, and foodstuffs. But when Mount Vesuvius erupted, the deadly ash and pumice—14 to 17 feet of it—ravaged the city, entombing its people, animals, and buildings. However, throughout the centuries, archeologists have uncovered some of the people's lost property, giving scientists a better picture of how the citizens lived right before the catastrophe.
Running from now until January 12, 2020, the University of Oxford's Ashmolean Museum is showcasing some of these findings in Last Supper in Pompeii, an exhibit focusing on what the Pompeians ate before the volcano erupted. "This major exhibition will tell the story of the ancient Roman city of Pompeii's love affair with food and wine," the exhibit's website says.
More than 400 rare objects from Italy will be on display, including frescos (water-colored paintings that appeared on walls), carbonized bread, luxury furnishings, and a triclinium (a formal dining room) inspired by the Greeks. The exhibit also delves into some of the more unusual foods Pompeians consumed. We know they liked dormice baked with honey and poppy seeds. They also ate rabbits stuffed with figs, garum (a fermented mackerel-based fish sauce, also used in ancient Greece), and now-Westernized foods like focaccia bread and pomegranates.
As the Smithsonian writes, the exhibit "traces the wider trajectory of the Roman Empire's culinary traditions, from delicacies introduced by other cultures to the incorporation of food in religious practices and the tools required to prepare the meals." Attendees will get a peek inside the homes of the wealthy, and also learn about all of the equipment enslaved cooks used to prepare meals (and how they did so next to latrines).
You can get your tickets to the exhibit here for £12.25, or around $14.80.