You Could Own This Idyllic (But Haunted) Ghost Town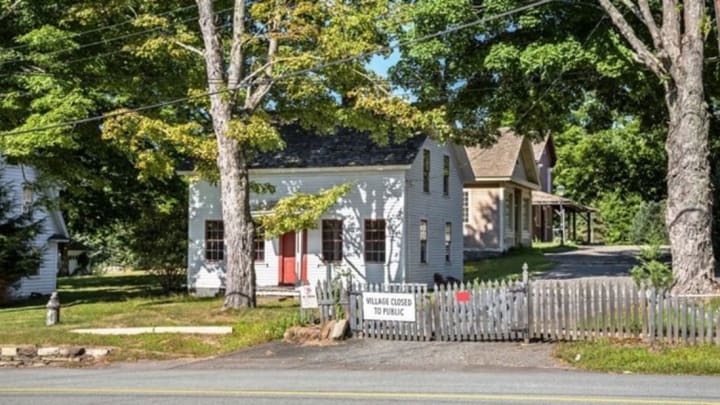 Auction.com / Auction.com
Update: In October, the ghost town of Johnsonville went up for sale with a starting bid of $800,000. The $1.9 million winning offer has mysteriously fallen through, and now the abandoned village is up for grabs yet again. Earlier this month, the Facebook page for the community posted: "It's official, Johnsonville is still on the market!" and little other explanation has been offered about what happened with the deal. Prospective buyers beware: you'll need a bit more money this time around as the current owner—Myer Jabara Hotels in Danbury—is avoiding the auction route and listed Johnsonville for $2.4 million. 
It sounds like the beginning of any good horror film: A peaceful, abandoned Connecticut village, located 30 minutes from Hartford and two hours from New York City and Boston, goes up for auction just a few days before Halloween. Not long after, the lucky winning bidder moves in ... only to discover that his 62-acre purchase is haunted.
This, however, is not the beginning of a horror movie—at least not yet. Last year, Auction.com and RM Bradley put the Village of Johnsonville, located in the Moodus section of East Haddam, Connecticut, up for auction. Johnsonville was a once "booming mill town in the 1830s and home to the Neptune Twine Company, which made binding rope for the nation's fishing industry," but was eventually abandoned, according to House Beautiful. In the 1960s, it was purchased by millionaire Ray Schmitt, who died in the midst of a restoration.
Today, Johnsonville has eight structures, some of which were "brought to the site to recreate the once thriving Johnsonville mill community," according to the listing. The property also includes a pond—where Billy Joel's "River of Dreams" music video was filmed—a waterfall, wooden dam, and covered bridge. You can take a quick video tour of the property below:
Johnsonville is said to be haunted by several spirits, including Schmitt's and the mill workers whose bodies were laid out in the parlor of the Johnson House before burial. "While there are certainly a wide variety of properties available for sale on our platform, it isn't every day that an entire town goes up for sale—much less one of historical significance," Rick Sharga, executive vice president of Auction.com, told HousingWire. "The whole 'haunted or not' discussion kind of takes things to another level altogether, especially at this time of year. But potential buyers can rest assured that there will be no extra charges for any ghosts who may be attached to the property."
For those with deep pockets, a lot of friends looking to invest, or simply a curious eye, check out some photos of Johnsonville below.
This post originally appeared last October.