A Signed Copy of Edward VIII's Abdication Speech Is Hitting the Auction Block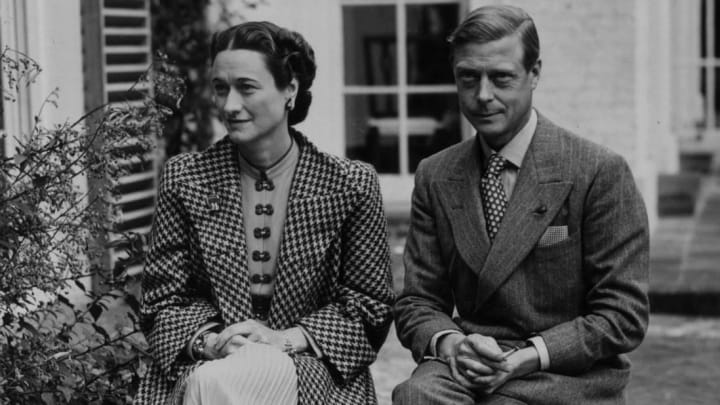 Central Press/Stringer/Getty Images / Central Press/Stringer/Getty Images
The British royal family has seen centuries' worth of scandals, but Edward VIII's brief but dramatic reign is hard to top. After serving as king of England for a grand total of 11 months, he gave up the throne to marry the twice-divorced American socialite Wallis Simpson. Now, the former king's history-making abdication speech is up for auction, Atlas Obscura reports.
The online auction house Invaluable is selling the infamous document—along with one of Simpson's ivory gloves—for a starting bid of $1000. The document contains the original speech Edward delivered on BBC radio on December 10, 1936. It comes with a handwritten note addressed "with best wishes" to Walter E. Edge, an American politician and diplomat, and signed simply "Edward." The collection also includes three candid photos of the former Edward VIII and his wife. Unlike the glove and speech, the photographs aren't framed.
Edward and Wallis Simpson met in 1931 and married six years later. When Edward abdicated his position in 1936, his younger brother Albert—later George VI—took over the throne and started the line of British royals that rules today. George VI's daughter, Elizabeth II, is currently the longest-reigning monarch in England's history.
Edward's abdication speech is unusually candid for an official address from a British royal; he even writes that it would be impossible for him to continue the job without "the help and support of the woman I love." It may have looked romantic from the outside, but the couple's affairs, public fights, and fondness for Hitler didn't exactly make for a storybook marriage.
The artifacts are currently up for bid on Invaluable's website, with the sale ending August 28 at 10:30 a.m. EST. The collection is expected to sell for $3000 to $3500.
[h/t Atlas Obscura]