A Lost Japanese Village Has Been Uncovered in the British Columbia Wilderness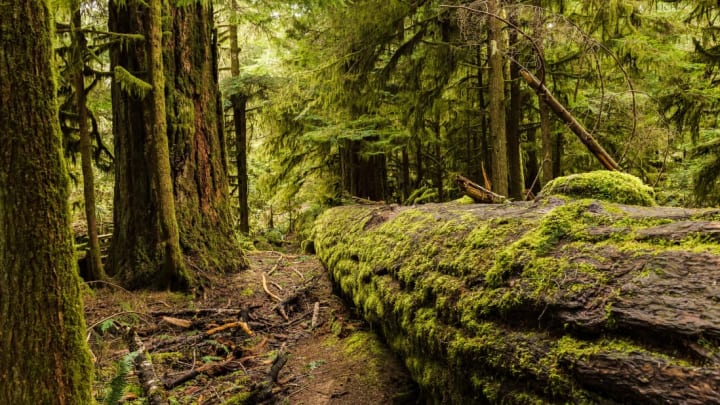 Ferenc Cegledi/iStock via Getty Images / Ferenc Cegledi/iStock via Getty Images
In 2004, a retired forester reached out to Capilano University archaeology professor Bob Muckle about investigating what looked like the remnants of an old logging camp in the forests of British Columbia, Canada. North Shore News reports that each spring for the next 14 years, Muckle took his students there to help him excavate what he now believes was a sort-of-secret Japanese settlement.
The site is located on the Lower Seymour Conservation Reserve, about 12 miles northeast of Vancouver. It's approximately the size of a football field and contains the remains of more than a dozen cabins, a bathhouse, a road made of cedar planks, and a cedar platform that may have been a shrine. Muckle and his students have also unearthed more than 1000 items, including sake and beer bottles from Japan, teapots, game pieces, medicine bottles, clocks, pocket watches, clothing buttons, coins, and hoards of ceramics.
Japanese businessman Eikichi Kagetsu secured logging rights to the area near the camp around 1918, so it's likely that the settlers were originally loggers and their families. Though the trees were cleared out by 1924 and Kagetsu continued his business ventures on Vancouver Island, there's evidence to suggest that some members of the logging community didn't leave right away.
Muckle believes that at least some of the 40 to 50 camp inhabitants chose to remain there, protected from rising racism in Canadian society, until 1942, when the Canadian government started moving Japanese immigrants to internment camps in the wake of the outbreak of World War II.
Muckle thinks the residents must have evacuated in a hurry since they left so many precious and personal items behind. "When people leave, usually they take all the good stuff with them," he told North Shore News. His team even uncovered parts of an Eastman Kodak Bulls-Eye camera, a house key, and an expensive cook stove that someone had hidden behind a stump on the edge of the village. "They were probably smart enough to realize people might loot the site," he added.
According to Smithsonian.com, Japanese immigrants had been victims of racism and discrimination in Canada since the first wave of immigration from Japan in 1877. They were generally met with hostility across the country, and kept from voting, entering the civil service, and working in law and other professions. Anti-Japan sentiment dramatically worsened after the bombing of Pearl Harbor in 1941, and The Canadian Encyclopedia estimates that more than 90 percent of Japanese Canadians—many of them citizens by birth—were displaced during the war.
To Muckle, this all contributes to the likelihood that villagers would have chosen to stay insulated by the forest for as long as they could. "The impression that I get, generally speaking, is it would have been a nice life for these people," he said. It wouldn't be the first time a remote, wild area served as a refuge for a persecuted community—farther south and east, escaped enslaved people settled in the swamplands bordering North Carolina and Virginia for the century leading up to the Civil War.
While Muckle believes people stayed in the Canadian camp until the 1940s, it's hard to prove—there are no records for the inhabitants of the camp or where they might have gone. If there's evidence in the village that can prove residents did stay until the 1940s, it will soon fall to other curious archaeologists to find it: Muckle thinks this will be his last season at the site.
Or, maybe the smoking gun will be discovered by someone who isn't an archaeologist at all. Here are 10 times ordinary people (and one badger) unearthed amazing archaeological finds.
[h/t Smithsonian.com]