General Mills Is Recalling More Than 600,000 Pounds of Gold Medal Flour Over E. Coli Risk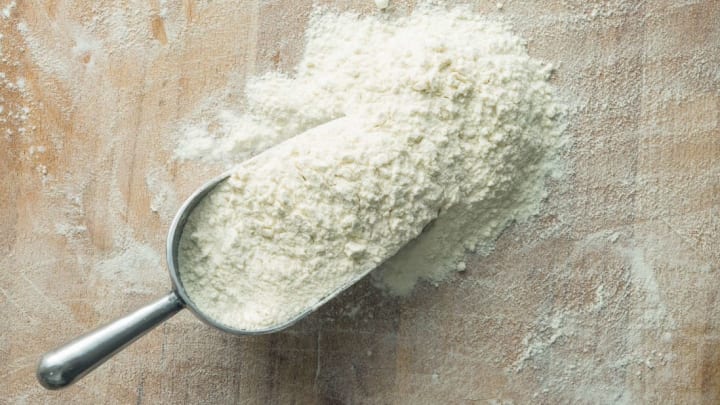 jirkaejc/iStock via Getty Images / jirkaejc/iStock via Getty Images
The FDA recently shared news of a 2019 product recall that could impact home bakers. As CNN reports, General Mills is voluntarily recalling 600,000 pounds of its Gold Medal Unbleached All-Purpose Flour due to a possible E. coli contamination.
The decision to pull the flour from shelves was made after a routine test of the 5-pound bags. According to a company statement, "the potential presence of E. coli O26" was found in the sample, and even though no illnesses have been connected to Gold Medal flour, General Mills is recalling it to be safe.
Escherichia coli O26 is a dangerous strain of the E. coli bacterium that's often spread through commercially processed foods. Symptoms include abdominal cramps and diarrhea. Most patients recover within a week, but in people with vulnerable immune systems like young children and seniors, the complications can be deadly.
To avoid the potentially contaminated batch, look for Gold Medal flour bags with a "better if used by" date of September 6, 2020 and the package UPC 016000 196100. All other products sold under the Gold Medal label are safe to consume.
Whether or not the flour in your pantry is affected, the recall is a good reminder that consuming raw flour can be just as harmful as eating raw eggs. So when you're baking cookies, resist having a taste until after they come out of the oven—or indulge in one of the many edible cookie dough products on the market instead.
[h/t CNN]