Highclere Castle—the Real-Life Downton Abbey—Is Available to Rent on Airbnb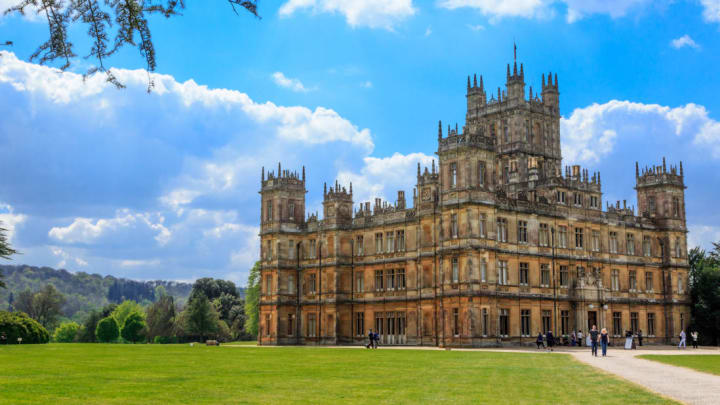 Highclere Castle, used as the setting for Downton Abbey / Emily_M_Wilson/iStock via Getty Images
Have you ever wanted to spend a night in a castle? And not just any castle—the Downton Abbey castle, Highclere Castle? On November 26, one lucky couple will get the opportunity to relive the TV show and movie, when castle owners Lady and Lord Carnarvon will cordially invite one person and their guest of choice to spend the night in the castle, which is located in Hampshire, England—about 45 miles west of London. On October 1 (Airbnb reservations go live at noon BST) anyone with a verified profile, positive reviews, and passion for Downton Abbey can vie for the opportunity. Even though the castle has 300 rooms, they are only making one bedroom available, for $159.
Upon arrival, the royals will host cocktails with the guests in the saloon. Visitors will hear stories from more than 300 years of Highclere Castle history (construction on the castle began in 1679, and has been in the Carnarvon family ever since).
"I am passionate about the stories and heritage of Highclere Castle and I am delighted to be able to share it with others who have a love of the building and its history," Lady Carnarvon said in the Airbnb listing.
The Earl and Countess will host a dinner for the guests in the state dining room, and afterwards have coffee in the library. Before bed, the guests' butler will escort them to their gallery bedroom. The next morning, guests will receive a complimentary breakfast, a private tour of the 100,000-square foot castle and 1000-acre grounds, and a special gift from the Carnarvons. (Airbnb will also make a donation to The International Federation of Red Cross and Red Crescent Societies.)
It should be noted the castle doesn't have Wi-Fi or central air, but it does have fireplaces and central heat. There are a few rules guests must follow, though: all newspapers must be ironed; one butler per person; cocktail dress is required at dinner; gossip is restricted to downstairs; the listing is midweek because, as the Dowanger once said, "What is a weekend?"
If you don't win the opportunity to stay at Highclere, all is not lost: you can tour the castle year-round.