10 Famous Writers' Houses Worth Visiting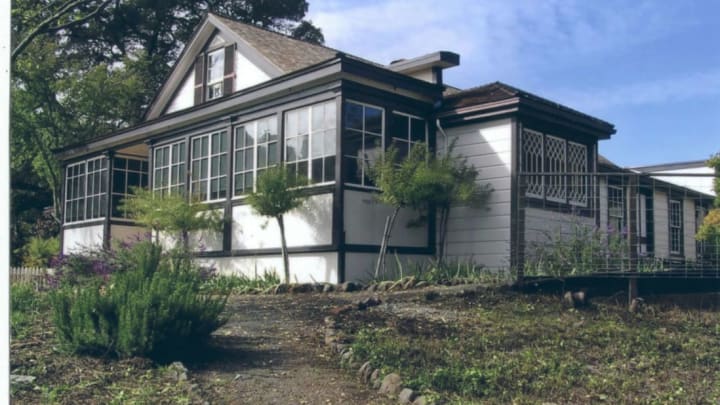 Robert E. Nylund, Wikimedia Commons // Public Domain / Robert E. Nylund, Wikimedia Commons // Public Domain
A writer's home is a kind of autobiography, and visiting the place where a great work of literature was written gives you a deeper understanding of both the book and the person who wrote it. Here are some notable writers' houses to check out.
1. Jack London's Ranch // Glen Ellen, California
Besides being one of the most successful writers of his day, Call of the Wild author Jack London was also a dedicated rancher. London bought 1400 acres near Sonoma, California, and set up an experimental farm. He planted spineless cacti to feed his livestock, put in grain silos, and built a piggery so grand he called it the "pig palace." You can visit the house where London lived and died, as well as the ruins of the three-story mansion that burned down just before he was set to move in. (The rock walls still stand in a redwood grove, not far from London's grave.)
2. John Steinbeck's House // Salinas, California
Grapes of Wrath and Of Mice and Men author Steinbeck grew up in this Victorian home and lived here as an adult in 1934 to care for his ailing mother. During that time, his successful novella The Red Pony was published. A restless child, Steinbeck never seemed comfortable with his middle-class upbringing and empathized with the migrant workers he saw in the vegetable fields around Salinas. The town appeared as the setting in many of his works, most notably East of Eden. Today, the home holds a restaurant located in what used to be Steinbeck's parlor; the walls are decorated with Steinbeck family photos.
3. Mark Twain's House // Hartford, Connecticut
Twain spent the happiest years of his life in this house with his wife and three daughters. He wrote seven major works here, including The Adventures of Huckleberry Finn. The house, which feels reminiscent of a Mississippi steamboat, cost a great deal of money and contributed to Twain's financial problems late in life. The interior was designed by Louis Comfort Tiffany and has more than 10,000 objects from the Victorian era. There's even a pool table in the study, right by Twain's writing desk.
4. Ralph Waldo Emerson's House // Concord, Massachusetts
Emerson lived in this house for 46 years until his death in 1882, and it acted as a transcendentalist headquarters. Visitors like Henry David Thoreau went in and out, sometimes staying in the guest room nicknamed the "Pilgrim's Chamber." Emerson wrote his essays Nature and Self-Reliance in a study on the first floor, although his son later said that Emerson's "real study" was nearby Walden Woods.
5. Emily Dickinson House // Amherst, Massachusetts
Emily Dickinson was known as a recluse whose poetry was largely discovered after her death. But the house where she spent her life is a pleasant and bright one, with big windows and high ceilings. While most of the poet's activities remain a mystery even today, you can see her bedroom where she wrote many of her nearly 2000 poems.
6. Edith Wharton's Estate // Lenox, Massachusetts
Edith Wharton was rich. Very rich. The Mount, her palatial home, has 35 rooms, four floors, and acres of lush gardens. Wharton helped design the house according to the principles she laid out in her best-selling book The Decoration of Houses. Her good friend Henry James was a frequent guest. Wharton wrote The House Of Mirth at The Mount, usually working in the morning while lying in bed.
7. Margaret Mitchell's Apartment // Atlanta, Georgia
The ultimate pilgrimage for Gone With The Wind fans has to be Margaret Mitchell's house. Mitchell moved into Apartment Number 1 of this building—which she called "The Dump"—as a newlywed in 1925 and lived there for seven years. She worked on her epic novel on a table in the living room alcove that overlooks Crescent Avenue. Few people knew she was writing a book, which she considered a personal project. She worked on it sporadically until it was accepted for publication in 1935, forcing her to finish it up. The novel was a runaway hit.
8. Flannery O'Connor's Andalusia Farm // Milledgeville, Georgia
Flannery O'Connor wanted to move away from the South, but when she was diagnosed with lupus, she moved to her mother's dairy farm in 1951 and lived there until her death in 1964 at age 39. Since it was difficult for her to climb stairs, she slept in the downstairs living room, where she also wrote most of her published work. You can still see her manual typewriter and her crutches in the house. The more than 520 acre farm, with its ever-present peacocks, served as the setting for many of her short stories.
9. William Faulkner's Rowan Oak // Oxford, Mississippi
Few authors are as known for evoking place as Faulkner is for writing about Oxford, Mississippi. Rowan Oak, his home for over 30 years, is where he wrote many of his major works, including Light in August. When Faulkner bought the house, it didn't have running water or electricity. He spent many afternoons on home improvement projects, wiring the house himself and building the brick terrace outside. In his study, he sometimes wrote his complicated plot structures on the wall, then painted over them when he finished the book. In fact, you can still see the plot for his novel A Fable penciled on the wall right where he left it.
10. Ernest Hemingway's House // Key West, Florida
Ernest Hemingway lived in this house from the time he married his second wife, Pauline, to when he ran off to Cuba with his third wife, Martha. It was the most productive eight years of his life. He wrote most of his major works in his office, which you could only get to by walking across a bridge that extended from the upstairs bedroom. Almost everything in the house had a story, from the urinal garden fountain to the monastery gate he used as a headboard to the six-toed cats he collected because he thought they were good luck. Today, over 40 cats still live on the estate, all said to be descendants of Hemingway's original pets.