1. Emily Dickinson's Poem "Because I Could Not Stop for Death" Was Published Posthumously.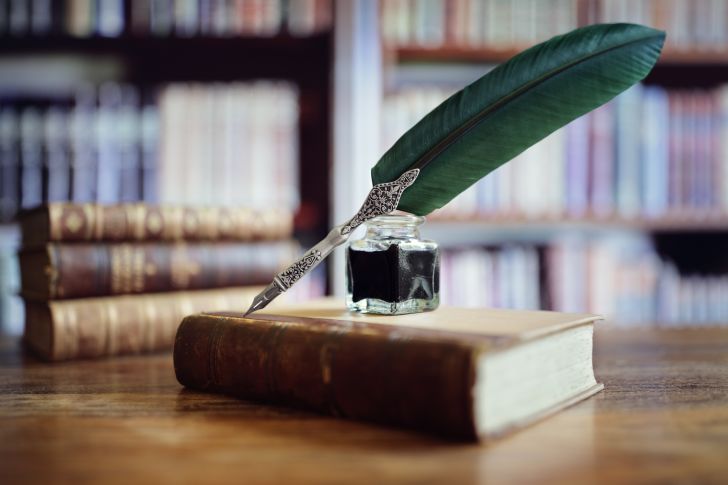 Only ten of Emily Dickinson's poems were published during her lifetime—the majority of her work was edited and published after her death by her friend and mentor Thomas Wentworth Higginson, with the help of her brother's mistress, Mabel Loomis Todd, among others. "Because I Could Not Stop For Death," possibly Dickinson's most famous poem, was released in the first volume, Poems, in 1890.
2. Most of Emily Dickinson's Poems Didn't Have Titles.
Since Emily Dickinson didn't title her poems, her editors took the liberty of giving some of them titles before publication. "Because I Could Not Stop for Death," for example, is sometimes called "The Chariot." Otherwise, they're usually referred to by the first line of the poem and/or a number that corresponds to its location in whichever collection it first appeared.
3. Emily Dickinson's "'Hope' Is the Thing With Feathers" Illustrates Her Often Unconventional Use of Punctuation.
Though Dickinson's early editors altered much of the punctuation in her poems after her death, her original manuscripts reveal just how often she used varying dashes to accentuate certain lines and phrases in her work. In "'Hope' Is the Thing With Feathers," for example, dashes separate "in the Gale" in the line "And sweetest – in the Gale – is heard –" and "never" in the line "Yet – never – in Extremity." How exactly Dickinson meant those dashes to influence rhythm and meaning is up for interpretation.
4. The Emily Dickinson Museum in Amherst, Massachusetts, Hosts an Annual 19th-Century Children's Circus.
Though the specifics of the summer circus vary from year to year, highlights have included 19th-century activities like tightrope-walking and ring tosses, as well as poetry readings, parades, and tours through Dickinson's home. The circus was inspired by Dickinson's recollections of a similar circus put on by her niece and nephews.
5. Emily Dickinson's Love Poems and Letters Imply a Mystery Man of Her Own.
The famously unmarried Dickinson wrote three "Master Letters" between 1858 and 1862 to an anonymous love interest she called only "Master," and some of her poems—"Wild Nights," for example—also broach the subject of passionate, romantic love. Though we'll likely never know whom Dickinson was writing about, scholars have suggested he was a mentor, a newspaper editor, a reverend, an Amherst student, a fictional muse of her own making, or God himself.
6. Emily Dickinson's Cause of Death Might've Been High Blood Pressure.
According to Emily Dickinson's death certificate, she died of Bright's disease, a type of kidney disease. Based on her symptoms and medicine, however, her actual cause of death could've been heart failure or a brain hemorrhage brought on by hypertension, or high blood pressure. She passed away in her Amherst home on May 15, 1886, aged 55.
7. Emily Dickinson's Grandfather Founded Amherst College.
Her paternal grandfather, Samuel Dickinson, was one of the founders of Amherst College, and her father and brother each served as the institution's treasurer. Not only does the college house the largest collection of Emily Dickinson's work, it also owns the Emily Dickinson Museum, which includes the Homestead—Dickinson's birthplace and home—and the neighboring property the Evergreens, where her brother's family lived.
Famous Emily Dickinson Poems
"Because I Could Not Stop for Death" (1863)
"'Hope' Is the Thing With Feathers" (1861)
"I'm Nobody! Who Are You?" (1861)
"Wild Nights – Wild Nights!" (1861)
"Success Is Counted Sweetest" (1859)
"I Felt a Funeral, in My Brain" (1861)
"This Is My Letter to the World" (1862)
"I Dwell in Possibility" (1862)
"It Was Not Death, for I Stood Up" (1862)
"I Taste a Liquor Never Brewed" (1861)
Famous Emily Dickinson Quotes
"If I can stop one heart from breaking/I shall not live in vain."
"Hope is the thing with feathers/That perches in the soul/And sings the tune without the words/And never stops at all."
"Forever – is composed of Nows –."
"The Brain – is wider than the Sky –."
"I'm Nobody! Who are you?/Are you – Nobody – too?"
"The soul should always stand ajar."
"Were I with thee/Wild nights should be/Our luxury!"