6 Facts About William Faulkner's As I Lay Dying
Released in 1930, author William Faulkner's As I Lay Dying appeared to be an impossibly ambitious undertaking. The story of the death of a Mississippi matriarch named Addie Bundren and her family's struggles to give her a proper burial, the novel is comprised of 15 first-person narratives, with Faulkner alternating perspectives in each of the 59 chapters. It's since become regarded as an American classic—and a bit of an endurance test for some readers. Here, some facts about the book and Faulkner's very deliberate undertaking of writing a "classic."
1. FAULKNER CLAIMED HE WROTE IT IN SIX WEEKS.
It can sometimes be difficult to sort William Faulkner's own personal mythology from facts. The novelist, who was a high school and college dropout and taught himself to write, claimed he wrote As I Lay Dying while working at a Mississippi power plant. (His earlier novels, while well-regarded, did not provide much in the way of royalties.) For six weeks, he wrote from midnight until four in the morning while at the plant. And, allegedly, drunk. The book was composed on a wheelbarrow that he turned into a table.
2. FAULKNER SAID HE DELIBERATELY SET OUT TO WRITE A CLASSIC.
Faulkner was one of the more blunt novelists of his era, having little time or regard for self-promotion or any examination of his process. In discussing As I Lay Dying, he was fond of saying that he was very conscious of the novel's potential to be embraced as a sprawling American classic. "I set out deliberately to write a tour-de-force," he said." Before I ever put pen to paper and set down the first word I knew what the last word would be and almost where the last period would fall."
3. ONE CHAPTER IS COMPRISED OF JUST ONE SENTENCE.

In a contender for the world's shortest book chapter, Faulkner composed chapter 19 of the book with just one sentence: "My mother is a fish." The perspective is that of Vardaman Bundren, the son of the recently-deceased Addie Bundren, whom he compares to a sea creature due to her coffin floating on a river.
4. HE USED THE SAME FICTIONAL SETTING IN SEVERAL OF HIS BOOKS.
And it's very hard to pronounce. Faulkner set many of his novels, including As I Lay Dying, in the fictional Yoknapatawpha County, a spell-check-threatening word that came from a Chickasaw term for water running through flatlands. While visiting students at the University of Virginia, he instructed students on its proper pronunciation:  YOK-na-pa-TAW-pha.
5. THE POWER PLANT HE WROTE IT IN WAS TORN DOWN.
The University of Mississippi power plant where Faulkner wrote the book stood as a monument to the late writer for several decades following his death in 1962. In 2015, the school announced it would be torn down to make room for a $135 million science building.
6. JAMES FRANCO TURNED IT INTO A MOVIE.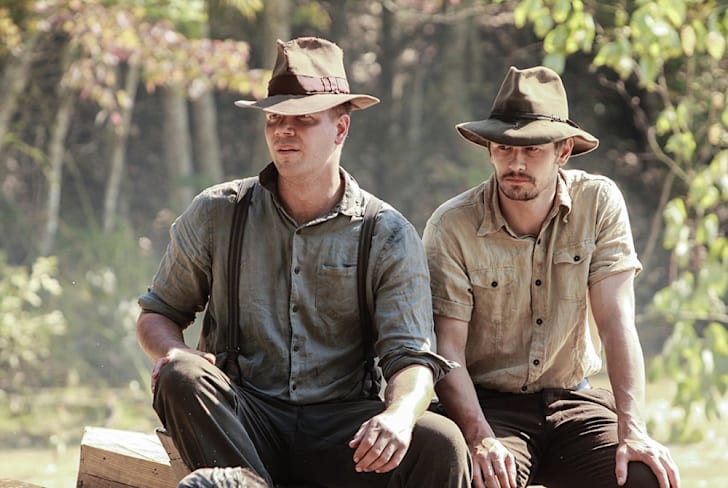 By the nature of its multiple perspectives and stream-of-consciousness narrative, As I Lay Dying was never seen as ideal movie material. Faulkner himself was a screenwriter (The Big Sleep, To Have and Have Not), but may have thought the odds of the book ever seeing the screen were slim. In 2013, actor/director James Franco released an adaptation that utilized split-screens, voiceover, and other techniques to try and maintain the spirit of the splintered story. Franco later adapted The Sound and the Fury, another Faulkner novel.
"I love Faulkner," Franco told The Hollywood Reporter in 2015. "I have loved Faulkner since I was a teenager, and I have just been drawn to his characters and his worlds. I think his experimental style and his very unusual structuring in his novels is the thing that actually attracted me. I knew it would be very difficult but I also knew from adapting his other book [As I Lay Dying] that if I tried to take on that writing style and structure in the movie that it would push me to find filmmaking solutions that I wouldn't have otherwise."