LEGO Dinosaur Fossils Bring Three Species Back From Extinction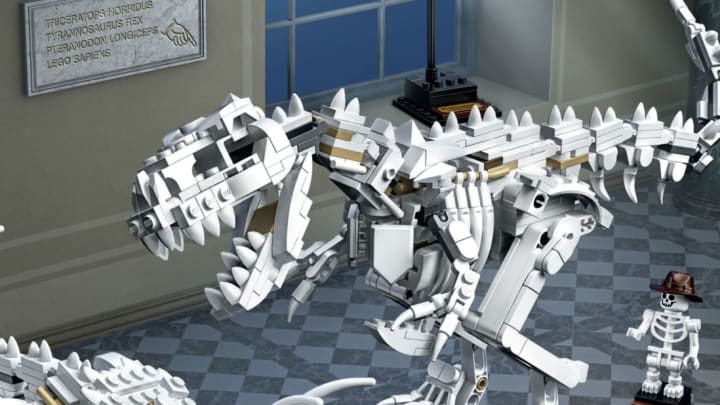 Courtesy of LEGO / Courtesy of LEGO
If LEGO paleontology sounds like a hobby worth pursuing, you're in luck. On Wednesday, LEGO announced the pending release of the LEGO Ideas Dinosaur Fossils set, a 910-piece package that resurrects Tyrannosaurus rex and Triceratops in skeleton form, with an articulated Pteranodon also in skeleton form. Fittingly, the T. rex looms largest at 7 inches tall.
The kit was based on a suggestion gathered by LEGO Ideas, the crowd-sourced platform that gives LEGO collectors a voice in future sets. In addition to the three dinosaurs, a Homo sapiens skeleton is also included for scale comparison. All have a display stand to cultivate a museum-quality atmosphere. You'll also get a paleontologist minifigure to complete the scene.
Courtesy of LEGO
Courtesy of LEGO
Courtesy of LEGO
This isn't LEGO's first foray into dinosaurs. The company has produced sets based on the Jurassic Park film franchise as well as kid-friendly sets, but this marks the first time dinos have gotten the deluxe treatment.
Technically, it's a two-dinosaur set, as Pteranodon is classified as a flying reptile in the order Pterosauria.
The Dinosaur Fossils set retails for $59.99 and will be available at the LEGO online store on November 1. You can preorder it here.
Mental Floss has affiliate relationships with certain retailers and may receive a small percentage of any sale. But we choose all products independently and only get commission on items you buy and don't return, so we're only happy if you're happy. Thanks for helping us pay the bills!