10 Strange Questions People Asked NYPL Librarians Before Google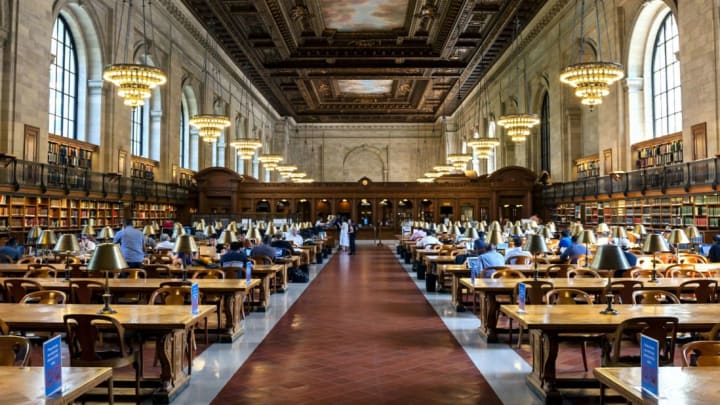 The New York Public Library's Rose Main Reading Room / cla78/iStock via Getty Images
Some of us can barely get through a dinner conversation without consulting Google, our search histories littered with queries both banal ("Why do airlines serve peanuts?") and unusual ("Does the full moon really make people act crazy?"). But before the dawn of the internet, people often turned to librarians to answer life's little (and not-so-little) questions. A couple of years ago, staff at the New York Public Library discovered a small gray file box filled with questions posed to the venerable institution's librarians between 1940 and 1980. A new book, Peculiar Questions and Practical Answers: A Little Book of Whimsy and Wisdom from the Files of The New York Public Library collects these questions alongside answers provided by NYPL librarians today, and featuring illustrations by New Yorker cartoonist Barry Blitt. We've rounded up some of our favorite questions below.
1. Is it possible to keep an octopus in a private home? (1944)
Barry Blitt/St. Martin's Publishing Group
Yes, but they require a lot of work and you better keep a tight lid on their tank. Octopuses are excellent escape artists. A good place to start your research is The Octopus News Magazine Online. Want to learn more about these creatures in general? You can find books about octopuses at your local library under the Dewey number 594.56.
2. What is the significance of the hip movement in the Hawaiian dance? (1944)
It's complicated, depending greatly on the specific movement and the context in which it is placed given that the Hawaiian hula is a sacred ritual dance in which every movement of the performer is codified and deeply symbolic. As definitive a book as it gets is Mahealani Uchiyama's 2016 The Haumana Hula Handbook for Students of Hawaiian Dance, which describes in depth the origins, language, etiquette, ceremonies, and the spiritual culture of hula. Ultimately though, the full significance could never be communicated in writing—to paraphrase the famed apothegm, writing about hip movements is like singing about architecture.
3. What time does a bluebird sing? (1944)
Well, the eastern bluebird sings whenever it is motivated to. Most often, males are motivated by seeing nice female bluebirds they want to court, or seeing them laying eggs (at which time they sing softly, which is sweet). Females are motivated to sing more rarely, but may do so when they see predators.
You can hear their recorded song at the website of the Cornell Lab of Ornithology and learn more through Vassar College's page as well.
4. How much did Napoleon's brain weigh? (1945)
Unfortunately, Napoleon's brain was never weighed after his death on St. Helena in 1821. In the 19th century there was a belief that the size of a person's brain had a correlation with one's intelligence, and there were a great number of estimates and speculation as to the weight of Napoleon's brain. However, French officials refused the request of one of Napoleon's physicians at the autopsy to open Napoleon's head surgically and it was left intact—although almost bald from the amount of hair Napoleon had sent to his family and friends as mementos.
5. Can mice throw up? (1949)
Barry Blitt/St. Martin's Publishing Group
A study titled "Why Can't Rodents Vomit? A Comparative Behavioral, Anatomical, and Physiological Study," published in 2013 in PLOS One, concluded that they cannot and that "absent brainstem neurological component is the most likely cause." Their brains are just not wired for this action.
6. What kind of apple did Eve eat? (1956)
The Bible fails to identify the varietal type of fruit, noting only that it was "seeded." (It is depicted as a pomegranate and not an apple in all early representations.) The actual type of apple, however, is irrelevant to understanding the parable. The fruit symbolized the knowledge of good and evil. In this librarian's opinion, that sounds sinfully delicious.
7. What is the life cycle of an eyebrow hair? (1948)
There are three phases in the life of an eyebrow hair: Anagen (growth), Catagen (resting or intermediate), and Telogen (shedding), with the average life span being about four months. According to the Bosley Hair Transplant Company, the average person has 250 to 500 hairs per eyebrow. The older you get, the longer it takes to grow eyebrow hair.
8. What did women use for shopping bags before paper bags came into use? (n.d.)
Barry Blitt/St. Martin's Publishing Group
The paper bag was invented in 1852, the handled shopping bag in 1912. Plastic shopping bags rose to prominence in the 1960s before achieving worldwide shopping domination by the early 1980s. Prior to the common use of a common bag, women—and men for that matter—used their hands and arms and any other vessel at their disposal to carry as much as they possibly could. The paper bag was actually invented so that shoppers could purchase more at one time!
9. What is the nutritional value of human flesh? (1958)
Hannibal Lecter would truly have to be a serial killer—if he intended to live solely from human flesh. The human body is edible and there have been documented instances of human cannibalism for thousands of years and across many cultures. And human flesh has been used as one form of nutrition from Paleolithic times to those desperate for food in twentieth-century concentration camps and among survivors of disasters in remote areas.
However, according to one recent study of "nutritional human cannibalism" during the Paleolithic (when there was no evidence cannibalism was practiced for a spiritual or ritual purpose) the human body is not an optimal resource in terms of the sheer number of calories that it provides when compared to other sources of meat. The study estimates that, if consumed, a human body would provide an average of 125,000 to 144,000 calories. This means that the meat on one human's body could have provided a group of twenty-five modern adult males with enough calories to survive for only about half a day. In contrast, that same tribe during Paleolithic times could have feasted on a mammoth that, with 3.6 million calories, would have provided enough sustenance for sixty days. Even a steppe bison would offer 612,000 calories, which is enough for ten days of nourishment.
The study suggests that because humans offered such a comparatively low amount of calories that some examples of Paleolithic cannibalism that had been interpreted as "nutritional" may have occurred for social or cultural reasons.
10. Who was the real Dracula? (1972)
For an answer to this question look no further than Bram Stoker's Notes and Outlines for Dracula that are held in the Rosenbach Museum and Library in Philadelphia. In her book Dracula: Sense and Nonsense, Elizabeth Miller writes that Stoker got the idea for the name Dracula from the book An Account of the Principalities of Wallachia and Maldovia by William Wilkinson that the author borrowed from the Whitby Public Library. In his notes he wrote "Dracula in the Wallachian language means devil."
11. Why do 18th-century English paintings have so many squirrels in them, and how did they tame them so that they wouldn't bite the painter? (1976)
For upper-class families of the 1700s, squirrels were very popular pets. Children truly enjoyed these fluffy devil-may-care rodents so naturally they made their way into portraits and paintings of the time. In most cases, however, the painter would use a reference from books on nature and animals rather than live squirrels, thus bypassing the need to tame them to sit still and pose!
From Peculiar Questions and Practical Answers: A Little Book of Whimsy and Wisdom from the Files of The New York Public Library by The New York Public Library and illustrated by Barry Blitt. Copyright © 2019 by the author and reprinted by permission of St. Martin's Publishing Group.