2020 World Monuments Watch: 25 Historic and Cultural Landmarks That Are At Risk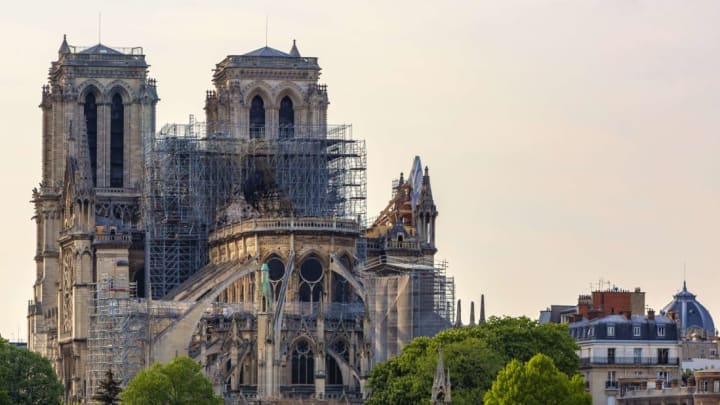 Razvan/iStock via Getty Images / Razvan/iStock via Getty Images
Whether it's due to their age, size, or ubiquity in pop culture, certain landmarks can feel invincible. But that's far from the case: Each year, some of the most famous places on Earth are faced with new threats, including war, urban development, and climate change. In an effort to boost awareness of these vulnerable sites, the World Monuments Fund (WMF) has released its biennial roundup of 25 historic and cultural monuments around the world that need protection.
To finalize entries for its 2020 World Monuments Watch, the WMF evaluated more than 250 nominations from various groups and individuals. The final list includes monuments and cultural sites from five continents. Some, like Bears Ears National Monument in Utah, are threatened by weakened conservation laws, while others—like Notre-Dame cathedral in Paris—have been damaged by recent disasters.
The WMF plans to partner with the local communities around each site on the list to develop specific conservation plans to help save these landmarks. In spring of 2020, the program's founding sponsor, American Express, will donate $1 million toward the initiatives of a select group of sites from the list. To see every place included in the 2020 World Monuments Watch, check out the list below.
Koutammakou, the Land of the Batammariba // Benin and Togo
Ontario Place // Canada
Rapa Nui National Park // Chile
Alexan Palace // Egypt
Notre-Dame de Paris // France
Tusheti National Park // Georgia
Gingerbread Neighborhood // Port-au-Prince, Haiti
Historic Water Systems of the Deccan Plateau // India
Sardar Vallabhbhai Patel Stadium // India
Mam Rashan Shrine // Iraq
Inari-yu Bathhouse // Japan
Iwamatsu District // Japan
Canal Nacional // Mexico
Choijin Lama Temple // Mongolia
Traditional Burmese Teak Farmhouses // Myanmar
Chivas and Chaityas of the Kathmandu Valley // Nepal
Anarkali Bazaar // Pakistan
Sacred Valley of the Incas // Peru
Kindler Chapel, Pabianice Evangelical Cemetery // Poland
Courtyard Houses of Axerquía // Spain
Bennerley Viaduct // United Kingdom
Bears Ears National Monument // USA
Central Aguirre Historic District // USA
San Antonio Woolworth Building // USA
Traditional Houses in the Old Jewish Mahalla of Bukhara // Uzbekistan