'Lost Species' of Tiny, Rabbit-Sized Deer Photographed in Vietnam for the First Time in 30 Years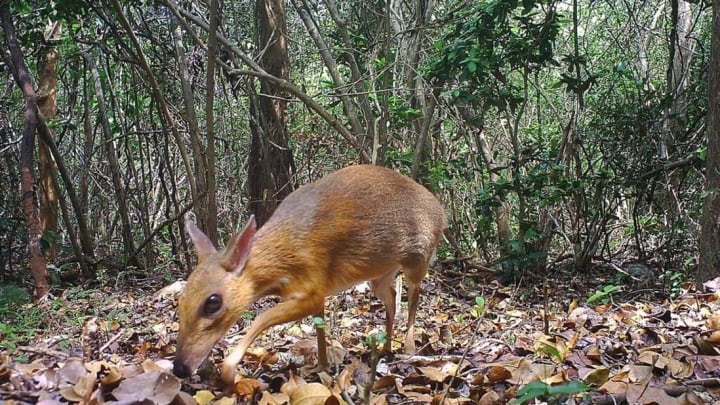 Global Wildlife Conservation / Global Wildlife Conservation
The silver-backed chevrotain, also called the Vietnamese mouse-deer, is elusive. It's so elusive that scientists had feared it was extinct after none had been photographed for decades. But as The Washington Post reports, the first images taken of the mammal in nearly 30 years prove that the species is still alive in the woods of Vietnam.
No larger than small dogs, chevrotains are the tiniest ungulates, or hoofed animals, on Earth. They have vampire-like fangs and skinny legs that support their bodies. Silver-backed chevrotains are characterized by the silver sheen of their tawny coat.
The tiny population native to Vietnam has been devastated by poachers in recent decades. That, and the animal's natural shyness, make it incredibly difficult to study. Before this most recent sighting, the last time scientists had recorded one was in 1990.
Global Wildlife Conservation, the Southern Institute of Ecology, and the Leibniz Institute for Zoo and Wildlife Research teamed up in hopes of documenting the lost species. Researchers interviewed residents and government forest rangers in the Vietnamese city of Nha Trang about the silver-backed chevrotain, looking for tips on where to find one. Residents said that while populations had been hit hard by hunting, the animals were still around.
Based on this local ecological knowledge, scientists set up three camera traps in the Vietnamese woods. In just five months, they captured 275 photographs of the little mouse-deer. They then installed 29 additional cameras and snapped 1881 new images in that same length of time.
"For so long this species has seemingly only existed as part of our imagination," Global Wildlife Conservation associate conservation scientist An Nguyen said in a statement. "Discovering that it is, indeed, still out there, is the first step in ensuring we don't lose it again, and we're moving quickly now to figure out how best to protect it."
Now that a silver-backed chevrotain population has been located, researchers plan to conduct the first-ever comprehensive survey of the species. Once the data is collected, it will be used to build a plan for the species' survival.
[h/t The Washington Post]