New Time-Lapse Shows the Threat Meltwater Lakes Pose to Greenland's Glaciers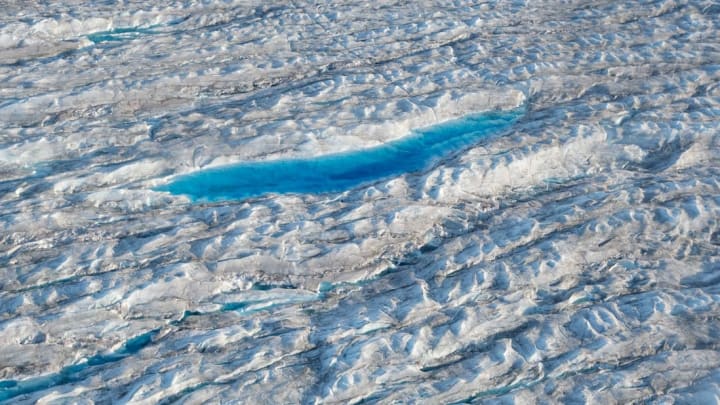 Sean Gallup/Getty Images / Sean Gallup/Getty Images
A historic amount of ice has disappeared from Greenland's glaciers in recent years. During this summer's heat wave in Europe, which scientists linked to climate change, the Greenland ice sheet melted at a rate of up to billions of tons of ice per day. The phenomenon was part of a trend: The previous summer, the Arctic sea ice near northern Greenland broke up for the first time ever. Now, newly published time-lapse footage illuminates another aspect of the dire situation.
As Live Science reports, a British team of scientists captured this video of the Store Glacier in western Greenland on July 7, 2018. It shows a lake of meltwater on the ice rapidly draining in a span of hours. When cracks form on glaciers in the summer, they fill up with water, creating massive, temporary lakes. These meltwater lakes become a problem when the water drains deep into the glacier, where it can damage the base and dislodge ice chunks into the ocean. Melting ice that drifts out to sea is one of the driving forces behind rising sea levels.
In a paper published this month in the journal Proceedings of the National Academy of Sciences, the researchers report that the lake captured in the video flushed more than 1.26 billion gallons of water—the equivalent of 2000 Olympic-size swimming pools, notes Live Science—toward Store Glacier's base even without fully draining. This shows that meltwater lakes that don't drain completely should still be treated as serious threats to ice sheets.
You can check out the complete time-lapse from their study below.
[h/t Live Science]