Gevalia Wants to Pay You $5000 to Drink Coffee in a Castle in Scotland for a Week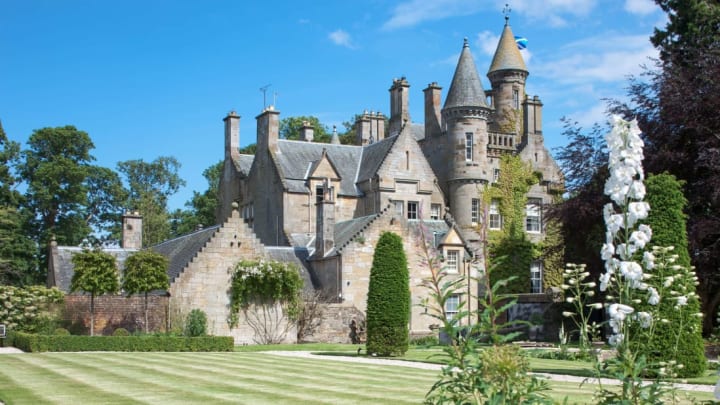 Carlowrie Castle in Edinburgh, Scotland. / Gevalia Kaffe
If you like coffee, castles, and five-course meals, Gevalia Kaffe might choose you as its Coffee Queen.
According to Travel + Leisure, the Swedish coffee company is planning to pay one lucky winner $5000 to spend a week sipping coffee in Edinburgh, Scotland's Carlowrie Castle. With 12 bedrooms, 11 bathrooms, and 32 acres of land, there's plenty of space to wander around—coffee mug in hand, of course.
"Gevalia believes a Queen is anyone who transforms into the most confident version of themselves after that first cup of coffee—they speak their minds, are self-aware, and aren't afraid to make fun of themselves," Gevalia senior associate brand manager Tina Bletnitsky said in a press release. "At Gevalia, we want to celebrate the Queen in everyone, and now we're just making it official."
The foyer of Carlowrie Castle. / Gevalia Kaffe
Gevalia is thoroughly committed to helping the winner reach their full regal potential by truly treating them like a queen. In addition to plenty of top-notch coffee, Gevalia will bestow you with a personal butler, five-course meals made by a "coffee-inspired chef," private lessons on preparing café-style drinks at home, and coffee-inspired spa treatments. And because ruling over a kingdom is no fun if you have nobody to share it with, Gevalia is also letting you bring a friend.
The application, which is open through December 21, only takes about a minute to complete—you just have to share how many cups of coffee you drink per day, explain how you're a Coffee Queen in real life (in 250 characters or fewer), and provide some personal information.
Then, recline in your at-home throne until December 30, when Gevalia announces the winner.
[h/t Travel + Leisure]