8 Surprising Facts About 'Let It Snow'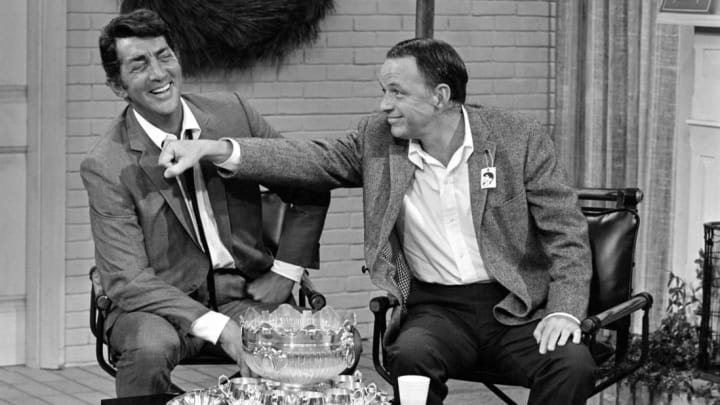 Dean Martin and Frank Sinatra on the set of the Dean Martin and Frank Sinatra Christmas Show in 1967. / Martin Mills/Getty Images
All it takes is hearing the piccolo at the beginning of Dean Martin's "Let It Snow" to make some people crave the cold. No matter how you feel about the holidays, the honorary Christmas song celebrates a part of the season everyone can get on board with—namely, getting cozy indoors when the weather outside is frightful. Here are some festive facts you should know about the ultimate hygge anthem.
1. The lyrics of "Let It Snow" contain no mention of Christmas.
"Let It Snow" has become a regular part of radio stations' holiday playlists, along with tracks like "Rudolph the Red-Nosed Reindeer" and "All I Want for Christmas Is You." But unlike those songs, "Let It Snow" contains no references to Christmas. Fire, popcorn, and winter weather are all mentioned, none of which are uniquely Christmas-y. So feel free to continue singing "Let It Snow" into the New Year and beyond.
2. "Let It Snow" was written during a heatwave.
Lyricist Sammy Cahn and composer Jule Styne had to use their imaginations when writing "Let It Snow." The two were struggling to endure one of the hottest days on record in Southern California in July 1945. Instead of heading to the beach, they decided to stay inside and write a song that would transport them to the winters of their youths.
3. The full title of "Let It Snow" is a mouthful.
Cahn and Styne's tune was first recorded in 1945 and released under the full title "Let It Snow! Let It Snow! Let It Snow!" Today, the wordy title is commonly shortened to the simpler "Let It Snow."
4. You've probably never heard the original version of "Let It Snow."
Singer Vaughn Monroe was the first person to record "Let It Snow" in 1945. His version was a hit, climbing to No. 1 on the Billboard charts by late January 1946, but it isn't the track many people are familiar with today. Dean Martin recorded a cover in 1966, and even though it was released more than 20 years after the original, it's regarded by many as the classic version of the track.
5. It took 50 years for Dean Martin's version of "Let It Snow" to enter the Billboard charts.
After playing on radio stations through decades worth of Christmases, Dean Martin's cover of "Let It Snow" finally entered the Billboard Top 100 in 2018. It marked the first time in 49 years a Dean Martin track made the list, the last time being when "I Take a Lot of Pride in What I Am" charted in 1969. Martin was just eight years shy of beating Louis Prima's record for longest gap between Hot 100 hits, which lasted 57 years.
6. The official music video for "Let It Snow" was only released in 2019.
After charting for the first time in 2018, Dean Martin's "Let It Snow" reached another important milestone in 2019: An official music video for the song was uploaded to YouTube in November. It features an animated version of the singer celebrating the holidays with a cartoon cast of characters. The video was produced by Universal Music Enterprises, which has also released animated videos for classic holiday songs like "Jingle Bells" and "Rockin' Around the Christmas Tree."
7. A lot of big artists have covered "Let It Snow."
As is the case with many famous holiday songs, "Let It Snow" has been covered by some of the biggest names in the music industry. Before Dean Martin recorded his iconic version in 1966, his Rat Pack buddy Frank Sinatra released his own single in 1950. In recent decades, Rod Stewart, Michael Bublé, Jewel, and 98 Degrees have covered it. Some artists have found creative ways to make the classic song sound fresh; in 2005, Carly Simon released a version from the perspective of the party host instead of the guest.
8. "Let It Snow" has a warm-weather counterpart.
After writing one of the most popular winter songs of all time, Cahn and Styne joined forces again to pen a tune about nostalgia for warmer weather. In "The Things We Did Last Summer," the singer relies on happy summer memories to get through the winter months—a reversal of the situation that inspired "Let It Snow." "The Things We Did Last Summer" was a Top 10 hit when it was released in 1946 and it has since been covered by Dean Martin, Frank Sinatra, Bing Crosby, and The Beach Boys.