You Can Now Buy a Scarf Inspired by Those Preposterously Long CVS Receipts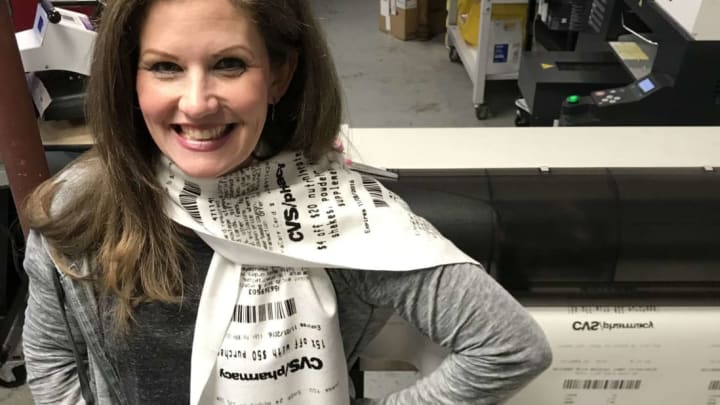 Kathryn Hughes/Etsy / Kathryn Hughes/Etsy
This article contains affiliate links to products selected by our editors. Mental Floss may receive a commission for purchases made through these links.
CVS is known for being a one-stop shop for medications, grocery items, toiletries, and, of course, comically long receipts. Naturally, people have taken advantage of these absurdly long pieces of paper in a number of ways: in 2018, one Twitter user went viral because he used his CVS receipt as a replacement window blind, while another customer blew his receipt up and turned it into a Halloween costume.
Now, one industrious artist named Kathryn Hughes is using those never-ending paper receipts as inspiration for a line of handmade scarves, which you can find on Etsy for $20. These scarves measure at 58 inches long by 10 inches wide and look just like the real thing; however, because they are handmade, their sizes can vary slightly—much like real CVS receipts.
Kathryn Hughes/Etsy
The length of a real CVS receipt comes down to whether or not you're a CVS ExtraCare member. These members get added coupons and sales announcements tacked onto every receipt, resulting in lengths that can stretch to more than 4 feet. And Hughes's scarves are true to form: ExtraCare members will recognize coupons like "15 percent off with $50 purchase," "30 percent off deodorant," and "$1 ExtraBucks Rewards" printed right onto the scarf.
If you're not a CVS shopper, Hughes also makes a scarf inspired by those long (but not quite CVS-long) Rite Aid receipts for $20. Hughes stresses that these scarves are novelty items and "won't save your life if you are stranded in Antarctica." But for anyone who has ever bought a pack of gum only to leave CVS with a receipt longer than a second grader, you can now turn your struggle into style.
Mental Floss has affiliate relationships with certain retailers and may receive a small percentage of any sale. But we choose all products independently and only get commission on items you buy and don't return, so we're only happy if you're happy. Thanks for helping us pay the bills!