Find Your Next Outdoor Adventure With This Scratch-Off National Parks Poster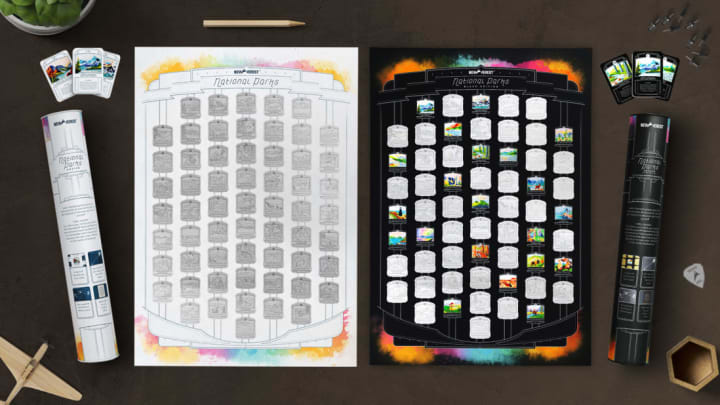 Newverest / Newverest
This article contains affiliate links to products selected by our editors. Mental Floss may receive a commission for purchases made through these links.
Whether you're a devoted thru-hiker, day-hiker, or a casual nature observer, America's National Park system has something for everyone to enjoy, from wildlife to natural wonders ripe for exploration. And now one Kickstarter campaign is looking to bring your love of the parks into your home with this unique piece of wall art.
The U.S. National Parks scratch-off poster from Newverest will not only inspire your next hiking endeavor, but can help you keep track of your travels as well. If you pledge now, you can receive a copy of the poster for $25, and for $49, you can get the poster and a frame.
Newverest
There are 60 different parks on this poster—which is available in black or white—that are represented by colorful illustrations created by local artists. When the poster arrives, though, the illustrations will be grayed-out. It's up to you to scratch them off as you visit the parks, revealing the full-color art underneath. "Think of the national parks scratch-off poster as your bucket list of National Parks," the company says on its campaign page.
When you purchase a poster, you'll also receive a metal mediator scratch-off tool, a microfiber cleaning cloth to wipe away any residue, adhesive stickers for easy hanging, and 62 cards that feature a hand-drawn scene of each park, along with interesting facts about them. For instance, on the Sequoia and Kings Canyon card, you'll learn the park is home to the largest sequoia trees in the world, whereas the Arches National Park card lets the reader know the territory is home to over 2000 arches.
Newverest
Newverest, founded in 2017, isn't new to the poster game: The company also makes U.S. and global scratch-off maps. Alongside helping plan trips, the company hopes their newest poster will educate kids and adults alike about the beauty of the parks and why they should be preserved.
With $3257 raised, Newverest is still working to reach its $10,000 goal. But you can help bring the project to life until February 21 by heading here.
Mental Floss has affiliate relationships with certain retailers and may receive a small percentage of any sale. But we choose all products independently and only get commission on items you buy and don't return, so we're only happy if you're happy. Thanks for helping us pay the bills!