Wine Isn't for Everyone—but Wine Soap Might Be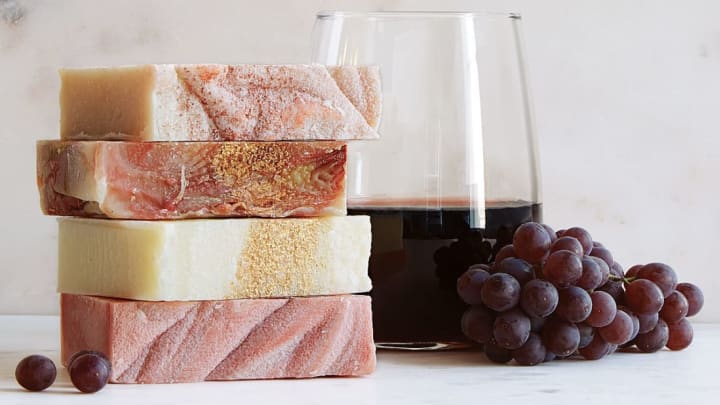 These wine soaps are made to smell like chardonnay, cabernet, pinot noir, and pinot grigio. / UncommonGoods
This article contains affiliate links to products selected by our editors. Mental Floss may receive a commission for purchases made through these links.
A bottle of wine is often a nice offering for a friend or party host, but the etiquette of gifting wine can be tricky, especially among non-drinkers. If you're looking for a memorable gift that doesn't come with a set of murky rules, consider this set of four wine soaps instead, which is available for $30 from UncommonGoods.
All four soaps are handmade in Monroe, Georgia, from natural ingredients like olive oil, coconut, cocoa butter, and mica. While they don't contain any actual wine, each bar of soap is inspired by a popular variety of red or white wine—"chardonnay" smells like citrus, while "pinot noir" contains hints of berries, plums, and apples.
Creator Heather Swanepoel told UncommonGoods she was inspired to create the wine-scented soaps when she was invited to the EPCOT International Food & Wine Festival at Walt Disney World. "I wanted to make sure to wow the guests and give them no reason to doubt why we were there," she said.
If wine isn't your thing, Swanepoel also sells scented soap inspired by flowers, chocolate, and beer.
Mental Floss has affiliate relationships with certain retailers and may receive a small percentage of any sale. But we choose all products independently and only get commission on items you buy and don't return, so we're only happy if you're happy. Thanks for helping us pay the bills!