How to See Venus and the Moon Share a 'Kiss' in a Rare Astronomical Event This Week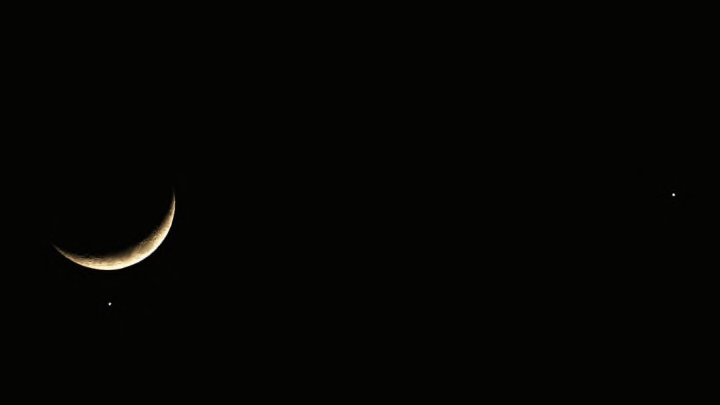 Mike Hewitt/iStock via Getty Images / Mike Hewitt/iStock via Getty Images
Venus is visible in the evening or morning sky for most of the year, but this Thursday, the second planet from the sun won't be alone in its spot above the horizon. As Travel + Leisure reports, Venus, also known as the "evening star," will appear right next to a crescent moon following the sunset on February 27, resulting in a rare celestial "kiss."
Why will Venus be close to the moon?
Venus is often among the first "stars" to become visible at twilight (though it's really a planet), and it's the brightest object in the night sky aside from the moon. Between January 1 and May 24, it shines brightly above the western horizon. For a few weeks in early May and late June, Venus is washed out by the light of the sun, and from June 13 to December 31, it's easiest to see in the eastern sky around sunrise.
This week, Venus will be in the perfect position to share a "kiss" with the night's brightest object. All the planets, including Venus, appear to traverse the same path across the night sky called the ecliptic. The moon follows a similar trajectory, and on some nights, the celestial body seems to come very close to the planets that also occupy the plane. This effect is just an illusion; while they will appear to be nearly touching on Thursday, the moon will actually be 249,892 miles from Earth on February 27, while Venus will be 84 million miles away.
The Moon just entered its "new" phase on Sunday, and it will only be partially illuminated by the time it meets up with Venus. The waxing crescent moon will rise in the perfect position in the western sky on Thursday to create a joint spectacle with our planetary neighbor.
When to see Venus and the moon "kiss"
The kiss between the moon and Venus can be spotted in the hours after sunset on Thursday, February 27. When you notice it getting dark, head outside and look to the southwest horizon if you live in the Northern Hemisphere. That will give you your best chance at catching the special event. If you miss it this week, you won't have to wait long for your next opportunity to see the Moon kiss Venus: The two bodies will return to a similar position on March 28, 2020.
[h/t Travel + Leisure]