Prince Edward and Wallis Simpson's Bahamas Estate Has Hit the Market for $8.5 Million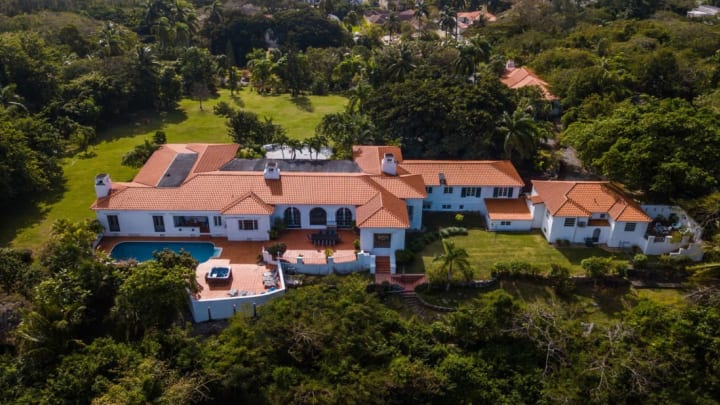 An aerial view of Prince Edward and Wallis Simpson's lavish Bahamas estate. / Sotheby's
Decades before Prince Harry escaped across the pond with an American divorcée, his great uncle Edward did something quite similar. In December 1936, Edward VIII abdicated the throne and later married Wallis Simpson, a twice-divorced socialite from Baltimore, Maryland.
After living in Paris for a few years, Edward was appointed governor of the Bahamas, and the couple purchased a lavish estate on the island of New Providence while they waited for their official government residence to be renovated. That 15,000-square-foot mansion, called Sigrist House (after Frederick Sigrist, the British film producer who built it in the 1930s), and its surrounding property are now on the market for $8.5 million.
An airy, light-filled entryway in Prince Edward's former residence. / Sotheby's
According to TopTenRealEstateDeals.com, the 4-acre estate is situated on a ridge outside Nassau, the Bahamas' capital city, with various restaurants, local shops, and a casino within walking distance. That said, since the grounds themselves include breathtaking views of the water, a pool, a spa, flower gardens, and fruit and coconut trees, you might never even have a reason to leave the premises.
The 4-acre estate with Nassau in the distance. / Sotheby's
While the main residence features a red-tiled roof and other elements of Spanish-colonial architecture, some parts of its expansive interior remain quintessentially British—four fireplaces, for example, were actually shipped from country homes in England, and some of the mahogany walls were constructed in England.
The spacious sitting room, featuring a British fireplace. / Sotheby's
The four-bedroom main house is flanked by a three-bedroom apartment and another two four-bedroom guest houses, making it large enough to accommodate all the extended family members who will almost definitely ask to visit you.
If $8.5 million is within your budget for an island palace with a royal past, find out more information here.