Take a 40-Minute Virtual Tour of the Winchester Mystery House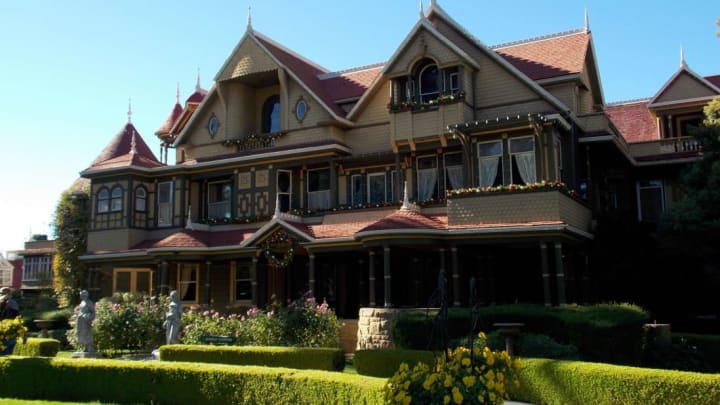 BrookePierce, iStock via Getty Images / BrookePierce, iStock via Getty Images
Taking online yoga classes and watching soothing animal live-streams isn't the only way to cope with isolation. If taking a virtual tour of one of the most allegedly haunted places on Earth is more your style, now you can check out every baffling nook and cranny of the Winchester Mystery House on the landmark's website.
Along with many public businesses and institutions across the country, the Winchester Mystery House closed earlier in March in response to the novel coronavirus pandemic. A visit to the site in person normally costs up to $54, but until it reopens, anyone can take a virtual tour of the estate for free.
The Winchester Mystery House is one of the most notorious pieces of property in California's Bay Area. Constructed between 1886 and 1922, legend says Sarah Winchester built the unusual abode to ward off the vengeful spirits of people killed by Winchester rifles. (The founder of the Winchester Repeating Arms Company was her father-in-law.) The home's bizarre layout, which includes stairs that stop at the ceiling and doors that open to nothing, may reflect her fear-driven compulsion to keep building.
Today the Winchester Mystery House is an iconic California landmark. It's a bucket-list destination for ghost hunters, and it's even been immortalized as an elaborate LEGO sculpture. To see the inside of the structure, and to learn more about its history, you can take the 40-minute virtual tour here. If you're looking for more ways to support the attraction while it's closed to visitors, consider buying a discounted ticket voucher now to use when the house reopens.