9 Things Lost or Found on Trains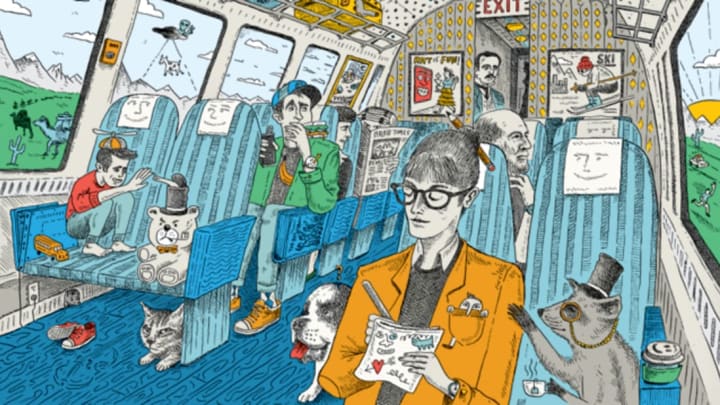 Joey Parlett / Joey Parlett
1. LOST: Rare Buddhist scripture
A Tibetan scholar was so excited to see London mayor Boris Johnson riding the Tube that he accidentally left his laptop on the train. The computer contained the lama's life's work: two unfinished books and nearly 1000 pages of rare 17th- century Buddhist scripture.
2. FOUND : A boa constrictor named Penelope
In 2011, a woman wearing a three-foot-long snake around her neck realized the pet serpent had slithered away. Since nobody could find it, authorities confidently declared that "the trains are absolutely snake-free." Turns out, they were wrong. Penelope hid out in an adjacent car for an entire month.
3. LOST: One of only two copies of The Boy Castaways
J.M. Barrie, the creator of the character Peter Pan, published just two copies of his story The Boy Castaways. One is protected inside Yale's Beinecke Rare Book and Manuscript Library. The other is still missing after being lost on a train in 1901.
4. FOUND: Paintings by Gauguin
In the 1970s, a Gauguin still life was found on an Italian train—but nobody knew it was by Gauguin. An art-loving auto worker bought the painting at an auction and it hung on his wall for more than 40 years, oblivious of its origin. Police later determined that the painting, worth $48 million, had been stolen from a London home.
5. LOST: A violin concerto
British composer Havergal Brian spent a whole year writing his first violin concerto. He finished the draft in June 1934, stuffed it in a briefcase, and promptly lost the bag containing it at London's Victoria Station. Starting from scratch, Brian took another whole year to finish his Violin Concerto No. 2.
6. FOUND: A 300-year-old Stradivarius violin
Each worth millions, about 600 Stradivarius violins still exist. In 2012, a musician lent his rare instrument to a friend so he could play it at a birthday party. But the real surprise came when his buddy accidentally left it on a train in Bern, Switzerland. Thankfully, a good Samaritan turned it in.
7. LOST: Early Ernest Hemingway
In 1922, Hemingway's wife Hadley was planning to visit her husband in Switzerland. So she packed up all of his papers in a suitcase and boarded a train in Paris. But while the locomotive sat at a station, Hadley decided to grab a bottle of Evian water and left the suitcase on the train. When she returned, the suitcase was gone. It had contained all of Hemingway's early fiction. Then unpublished as a novelist, Papa griped to Ezra Pound, "All that remains of my complete works are three pencil drafts of a bum poem..."
8. FOUND: Pete Seeger's banjo
The folksinger knew a thing about trains. Living as a vagabond in the 1930s, Seeger rode freighters across the country. But in 2000, the singer reportedly forgot his famed banjo while riding from New York City to Poughkeepsie. The instrument was faithfully taken to a lost and found, where it was reunited with Seeger.
9. LOST: T.E. Lawrence's original Seven Pillars of Wisdom
Following the Arab Revolt of 1916 to 1918, "Lawrence of Arabia" decided to put his experiences abroad on paper. But after nearly one year of work, he accidentally misplaced the suitcase containing the 250,000-word draft at Reading Station. Lawrence started all over again, calling the second version we read today "hopelessly bad."
Want more amazing stories like this? Subscribe to mental_floss magazine today!