Watch the World's Finest Cat Videos—and Support Indie Theaters—at Pittsburgh's Virtual "Quarantine Cat Film Festival"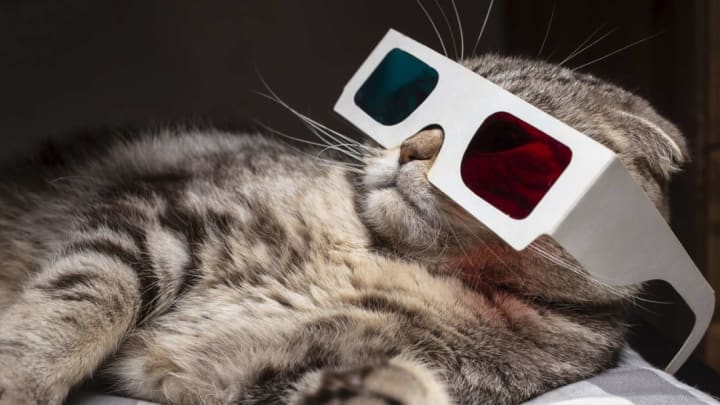 He clearly wants popcorn. / koldunova/iStock via Getty Images
Over the last two months, more than 1100 people all over the world have captured their cats' best moments on video and submitted them to Pittsburgh's Row House Cinema for a chance to be featured in the "Quarantine Cat Film Festival"—a 70-minute compilation film airing virtually on Friday, June 19.
"The response has been better than we could have ever hoped and we have so much great content to work with," Brian Mendelssohn, Row House Cinema owner (and director of the film) said in a press release [PDF]. "It's going to be a really fun feature with hilarious and adventurous cats and, of course, some adorable kittens too."
The coronavirus pandemic has definitely given people much more time to witness their cats' craziest behavior; in fact, Mendelssohn's wife came up with the idea for the festival while hanging out with the couple's two cats, Oliver and Isabella, during quarantine.
In addition to providing viewers with an evening of top-notch entertainment, the festival is also a way to support independent theaters forced to shut their doors during the pandemic. Half of all ticket sales will go toward Row House Cinema, and the other half will be split among 60 small indie theaters across the U.S. and Canada. When you purchase your ticket, you can even choose which of those theaters you'd like your money to go to.
"We wanted it to be a way to help keep not just our theater afloat, but to also keep independent cinemas across the country alive," said Mendelssohn. "Theaters like ours exist as time capsules that introduce new audiences to some of history's best films and serve as venues for important new releases that aren't mainstream."
Tickets are $12 each, and you can pre-order yours here.