Expeditions Gather Climate Change Clues on Mount Everest in Two New Documentaries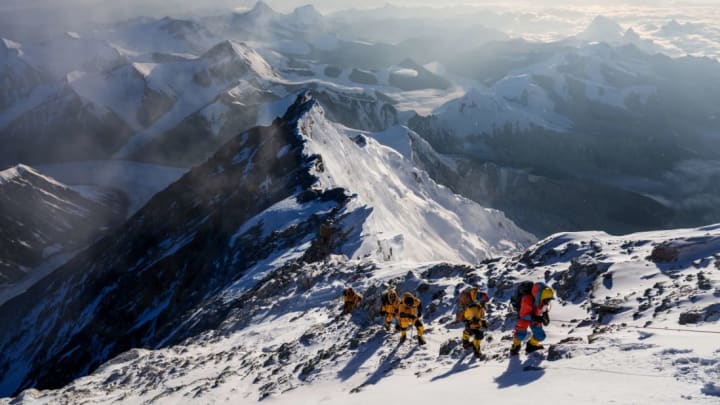 Team members climb up a slope during the expedition to find Sandy Irvine's remains on Mount Everest. / Matt Irving/National Geographic
Two one-hour documentaries premiering tonight reveal what Mount Everest is really like—and what scientists can learn from studying it.
Both docs are produced by and airing on National Geographic. In Lost on Everest, premiering at 9 p.m. EDT, climber Mark Synnott and Nat Geo photographer Renan Ozturk lead a team of seasoned mountaineers on a mission to discover what happened to Andrew "Sandy" Irvine, who vanished with fellow explorer George Mallory during the first Everest climb in June 1924. While Mallory's body was located by a BBC-sponsored operation in 1999, Irvine's exact fate has remained a mystery for nearly a century since his disappearance. As Synnott and his companions search for evidence, they encounter their own harrowing set of obstacles, from hurricane-force winds to medical emergencies.
Climbers ascend the Khumbu Icefall, a notoriously dangerous section of the summit route. / Mark Fisher/National Geographic Society
But Mount Everest isn't only a challenge for adventure-seekers and intrepid investigators—it also holds thousands of years' worth of information about how climate change has altered the environment, which can help scientists predict its future effects. In Expedition Everest, airing at 10 p.m. EDT, actor Tate Donovan narrates the journey of an international group of scientists and climbers with an ambitious set of data-collecting objectives.
One task is to use drones, laser scanners, and cameras to capture footage of every inch of the ascent, so researchers can create a 360-degree portrait of the mountain and track how glacial melt alters the landscape in the coming years. Since the Himalayas contain the water supply for roughly one-fourth of the world's population, the increase in glacial melt—which has already doubled since 2000—could threaten the futures of billions of people living in the region.
Mariusz Potocki and members of the National Geographic and Rolex Perpetual Planet Everest Expedition team collect the highest-ever ice core at 8020 meters (26,312 feet) near the South Col of Everest. / Dirk Collins/National Geographic Society
Even more immediate is the risk of flash floods, which are difficult to predict without a constant feed of weather data from high altitudes. Another goal of the expedition is to install weather stations at five locations along the climbing route, which will monitor temperature, humidity, air pressure, wind speed, and other factors that help alert meteorologists to an impending flood.
Some researchers have joined the expedition to drill deep into the ice at an altitude above 8000 meters (26,000 feet)—Mount Everest's "death zone"—and collect ice cores. These long tubes of ice reveal how the atmosphere has changed over thousands of years. Others are collecting similar cores of sediment at the bottom of a lake, as well as examining how plant and animal life has adapted to the warming temperatures and rising water levels.
Overall, Expedition Everest illustrates how the Himalayas function as an early indicator of what climate change will do to other places.
As climate scientist Anton Seimon explains in the documentary, "We're getting a window into what the rest of the world is starting to experience—and likely to experience in growing proportions."
You can watch the double feature tonight, June 30, at 9 p.m. EDT on National Geographic.