Possible Iron Age Murder Victim's Skeleton Discovered In England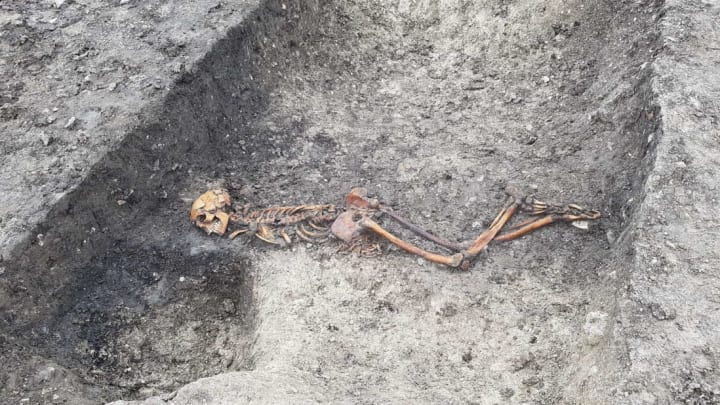 Iron Age skeleton found buried face-down on Wellwick Farm in England. / HS2
An excavation of Wellwick Farm in Buckinghamshire, England, got a lot more interesting when archaeologists uncovered a human skeleton there. The remains are old—dating back 2000 years to the Iron Age—and just as noteworthy as their age is the position in which they were discovered. As the BBC reports, the skeleton was found lying face-down with its hands tied behind its back, indicating it belonged to a possible murder victim.
While conducting surveys in preparation for the construction of Britain's HS2 railway, archaeologists have uncovered artifacts spanning a 4000-year period. In addition to structures like a roundhouse and a circular, wooden monument similar to Stonehenge, the site has yielded human remains. One skeleton was found buried in a lead-lined coffin, suggesting it had been a person of high status. The skeleton found with the bound hands hinted at a much darker story.
Skeleton of high-status person in lead-lined coffin. / HS2
Archaeologists aren't sure how the body ended up the way they found it. The bones, which were preserved in the clay soil over millennia, are believed to have belonged to an adult man. The experts say there are limited explanations for why someone would have been buried in such a degrading fashion. He was likely the victim of a murder or execution, though how he died is still unclear. The skeleton has been turned over to osteologists for further examination.
The site being surveyed was used for many purposes between the Neolithic and Medieval periods. The wooden monument suggests it played a role in religious ceremonies, while the roundhouse and animal pits are left over from its days as farmland. It was also used for high-status burials in the Roman era. Any skeletons in a similar state to the one with its hands tied have yet to be discovered.
[h/t BBC]