Hendrick's Clever New 'Streaming' Service Offers Videos of Creeks, Brooks, and Other Trickling Waters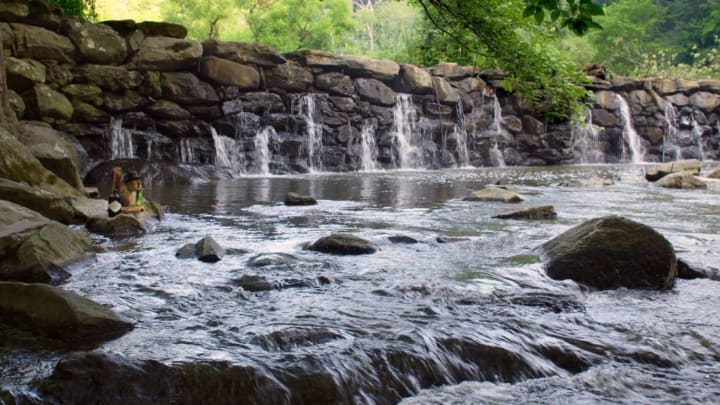 Why yes, that is a squirrel in a top hat eating a cucumber. / Hendrick's Gin
Outdoor enthusiasts and literal-minded thinkers alike may suffer a stab of disappointment every time they click on a livestream and do not see a single stream in sight.
Luckily, the Department of Not-So-Convenient Technology at Hendrick's Gin has devised a solution: an innovative streaming service that captures the trickling, tranquil glory of a few good streams. Free from the capriciousness of crashing waves and the chaos of rushing rivers, Hendrick's Streaming is for people who just want some peace and quiet—and also maybe a stiff drink.
Each of the three videos offers an hour of uninterrupted footage of a softly flowing stream that corresponds to a different gin cocktail. The Brook That Dared, for example, courses swiftly over smooth rocks much like soda water does over the ice in your classic rickey. And how better to enjoy the subtle babbling of Cucumber Creek than with a sugary cucumber lemonade? Or, you could raise a raspberry-infused floradora as a toast to the pink flowers bordering the Little Falls With Rosy Dreams.
Unlike the Hollywood blockbusters and gritty indie dramas so common on other popular streaming services, Hendrick's streams aren't overly concerned with plot twists, character development, or emotional manipulation of the audience. But that doesn't mean they're dull. Atop a rock beside The Brook That Dared, for example, sits a bushy-tailed squirrel sporting a top hat and munching on a cucumber. Meanwhile, Cucumber Creek's resident goose stands demurely with a rose in its beak.
Even if you're not watching the streams from start to finish, the steady gurgling makes for an especially soothing soundtrack for whatever you might be working on. It certainly beats the cacophony of city life, and it may even be loud enough to drown out your neighbor's shower ballads.