Apparate to Diagon Alley With This 5544-Piece Harry Potter LEGO Set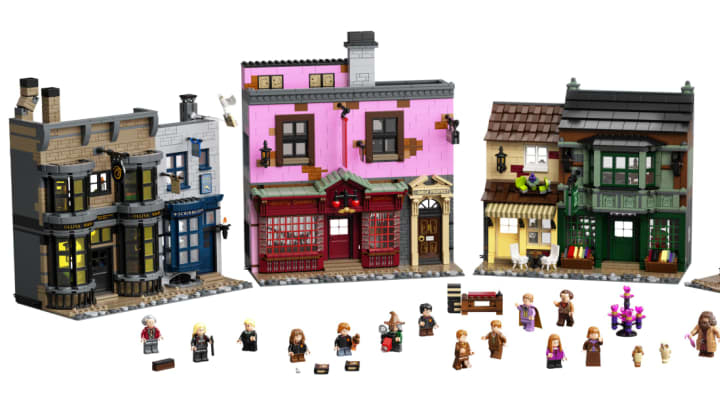 LEGO / LEGO
This article contains affiliate links to products selected by our editors. Mental Floss may receive a commission for purchases made through these links.
The locations from the Wizarding World of Harry Potter are just as iconic as the characters themselves, and now, the LEGO Group is looking to transport fans back to one of the most memorable sets from the series, Diagon Alley, with this massive 5544-piece LEGO set you can grab for $400.
The LEGO designers stayed true to the set details featured throughout the different films, including brick versions of shops like Florean Fortescue's Ice Cream Parlor, Scribbulus Writing Implements, and Quality Quidditch Supplies. You can even take a trip down to the Daily Prophet and meet the newspaper's photographer, who is making his LEGO minifigure debut, along with newcomers Gilderoy Lockhart, Florean Fortescue, and Lucius Malfoy. There are 14 characters in all, including updated sculpts of Harry, Ron, and Hermione.
LEGO
Each building features detailed storefronts packed with props that are true to the shops themselves, along with interiors that showcase even more wonders inside. You can set the scene at Gilderoy Lockhart's book signing at the bookstore Flourish and Blotts or pose your characters getting a new wand at Ollivanders.
The set is intended for ages 16 and up and clocks in at 40 inches wide and 11 inches high. If you're willing to undertake such a massive build, you can find it on the LEGO site.